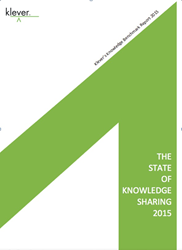 Effective knowledge sharing is no longer a competitive advantage. It's a requirement.
Durham, NC (PRWEB) April 22, 2015
Klever, an award-winning, next generation software and services company, released the first industry benchmark report on the perceptions and realities of knowledge management programs. Klever Knowledge Benchmark Report 2015: The State of Knowledge Sharing focuses on the processes, tools, and behaviors necessary to succeed in a knowledge-sharing program. This report provides a benchmark to guide organizations in deploying, sustaining, or rebuilding their respective programs.
A 2012 McKinsey & Company study suggested that there is $1.3 trillion in potential value lost due to lack of knowledge-sharing practices in organizations. With the sheer torrent of information organizations create, effectively sharing knowledge is no longer a choice; it's an imperative.
"Successful knowledge-sharing programs are a critical mix of team behaviors, supporting technologies, and organizational practices that encourage these behaviors," says Phil Verghis, Klever CEO and co-founder. "The perceptions that the team, managers, and executives have about knowledge sharing are both a bell weather of how the organization is accepting the knowledge-sharing program at each level and its chances at sustained success."
The report presents benchmark data in four critical areas: people and leadership, processes, technology, and culture. The analysis revealed three critical findings:

A wide gap exists between executive perceptions of knowledge sharing execution and on-the ground practices.
Technology is not enabling best practices yet. Knowledge-sharing processes were rated the highest benchmark by organizations overall (3.13 out of 5) while the technologies area was rated lowest (2.87 out of 5).
While organizations have adopted best practice processes and tools, the motivation to share knowledge as part of team behaviors every day lags behind. Nearly 70% of organizations report that they tend to go back to pre-knowledge program behaviors in times of rapid change or stress. Only 31% of organizations said they always or often invest in long-term solutions like knowledge-sharing practices even when fighting fires.
"These trends are troubling because, without addressing them, investments in knowledge-sharing processes and technologies will significantly under perform," says Dr. Adam Krob, Klever CIO and co-founder. "Without strong motivation supported by leadership behaviors, training, and truly aligned measures, team members will find more and more opportunities to opt out of sharing knowledge."
The Klever benchmark report aggregates data from 745 unique responses to the Klever Enterprise Assessment across fourteen primary benchmarks. The assessment was taken by industry leaders, executives, operational managers, and team members in organizations that either have an existing knowledge-sharing program or are contemplating one. Download the executive summary and complete report here.
About Klever
Klever is an award-winning, next generation knowledge management software and services company working with customers around the globe to build innovative knowledge sharing practices. Klever believes that every organization can use their knowledge as a lever so they don't have to keep re-learning what they already know. Klever's platform incorporates behavioral science insights with practical, proven techniques to rapidly bring knowledge-sharing behavior into an organization. It has proven to increase productivity by 30-50% within three months. Company services range from online assessments and acceleration plans to benchmarking, training, onsite consultation, and knowledge management projects.