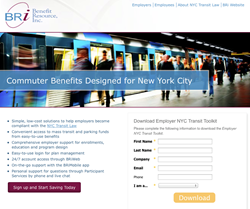 Employers need to understand the impacts of the law while also having access to easy to administer, compliant solutions.That is what we hope to accomplish with CommuterBenefits.nyc
New York, NY (PRWEB) April 21, 2015
Benefit Resource, Inc. has released a new website--CommuterBenefits.nyc-- designed specifically around the New York City Transit Law. As of January 1, 2016, all entities with 20 or more employees in New York City (including all five boroughs) will be required to offer a qualified transportation benefit. The site focuses on what that law is, how commuter benefits work and what entities can do to become compliant with the law.
Key features of CommuterBenefits.nyc
*Employer Savings Calculator
Dynamic calculator designed to illustrate the estimated Employer Savings and Average Employee Tax Savings that can be realized by implementing a commuter benefits plan. On average, employers can expect to save $45-60 per employee per year (after administrative expenses), while employees average approximately $400 in tax savings per year.
*Employer NYC Transit Toolkit
Downloadable guide to walk employers through key aspects of the law and options to get started.
*NYC Transit Law Information and Resources
Outlines the key aspects of the law and overall impact.
*Self-service Employer Sign-up Process
The quick 4-step process guides employers through the steps to sign-up for a compliant commuter benefit program with Benefit Resource. Following sign-up, employers will receive a Welcome email to walk them through rolling out and managing the plan.
"Commuter Benefits are a core focus for Benefit Resource. When this ordinance became law, we knew we needed to provide clear resources and guidance on the New York City Transit Law. Employers need to understand the impacts of the law while also having access to easy to administer, compliant solutions.That is what we hope to accomplish with CommuterBenefits.nyc," explained Andy Musolino, Partner and NYC Sales Executive, Benefit Resource.
If you have questions regarding the NYC Transit Law or Commuter Benefits, please contact Andy Musolino at (917) 359-9730 or amusolino(at)BenefitResource(dot)com.
About Benefit Resource, Inc.
Benefit Resource has been committed to providing pre-tax mass transit and parking benefits in New York City since it introduced one of the first commuter benefit payment cards in 2001, known as the eTRAC Prepaid MasterCard. Benefit Resource continues to expand its commitment to advancing the industry and innovations in commuter benefits with the introduction of mobile applications and contactless payment technology.
Benefit Resource provides innovative and dedicated administration of pre-tax benefit programs, including: Commuter Benefit Plans, Flexible Spending Accounts, Health Reimbursement Accounts and Health Savings Accounts. Benefit Resource is an independent company founded and headquartered in 1993 in Rochester, NY with a secondary location in New York, NY.