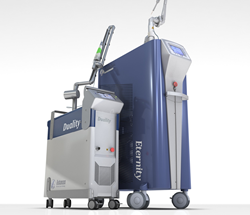 We are committed to using the best technology for all of our procedures—that's why we've upgraded to the Astanza Trinity.
Albert Lea, Minnesota (PRWEB) April 20, 2015
Zogg Dermatology has recently upgraded their tattoo removal technology to the industry leading Astanza Trinity laser. Zogg Dermatology offers a variety of general, cosmetic, and surgical dermatology services and is considered to be the leaders in aesthetics and dermatology for their region of Minnesota.
"We've been serving the residents of Albert Lea and South-Central Minnesota for 24 years," said Dr. Brian Zogg, owner. "We have a high level of trust with all of our patients because of the outstanding service we've provided over the years. We are committed to using the best technology for all of our procedures—that's why we've upgraded to the Astanza Trinity. We are confident that patients will leave our clinic feeling happy after just one treatment with us."
Laser tattoo removal is one of the many services offered at Zogg Dermatology, and they invested in the Trinity to continue their high standard of care. The Astanza Trinity is the most powerful multi-wavelength system for laser tattoo removal and can treat virtually any tattoo, safely and effectively. The experts at Zogg Dermatology chose to invest in the Trinity to give their patients better results in fewer treatments—regardless of their tattoo ink colors.
"We are thrilled that Zogg Dermatology has chosen the Astanza Trinity for all of their tattoo removal services," said Ryan Lambert, President of Astanza. "Dr. Zogg and his experienced staff are at the leading edge of dermatology in Minnesota, and are now at the leading edge for tattoo removal as well."
ABOUT ZOGG DERMATOLOGY
Zogg Dermatology was founded in 1991 and is the leading dermatology clinic in Albert Lea, Minnesota. Zogg Dermatology provides solutions for a wide range of medical, surgical and cosmetic dermatological needs. Some of these services include skin cancer detection, surgical intervention and cosmetic reconstruction; laser treatments for tattoo removal, hair removal, skin rejuvenation, vein treatments, and wrinkle reduction; medical treatment of eczema, rashes, allergies, warts, acne, and hair loss. Brian G. Zogg, M.D., owner, is board certified from the American Board of Dermatology and has specialized training in MOHS Micrographic Surgery and other dermatologic surgical procedures.
To schedule a free consultation or to receive more information on laser tattoo removal, visit http://www.zoggdermatology.com or call (507) 373-2270. Zogg Dermatology is located on 2718 Ekko Avenue, Albert Lea, MN 56007.
ABOUT ASTANZA
Astanza is a leading manufacturer of aesthetic lasers with a unique focus on the application of laser tattoo removal. In addition to developing cutting-edge medical laser devices such as the Duality, Eternity, and Trinity laser systems, Astanza offers its customers a complete range of training, marketing, and business consulting services specific to achieving success in this growing field.
Astanza Laser, Inc. is headquartered in Houston, Texas with customers throughout North America and Europe. For product upgrade, trade-in, investor, or press information, call 800-364-9010 or visit http://www.astanzalaser.com.