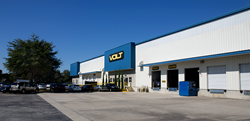 This next-day delivery takes away one of the last reasons people were buying from brick-and-mortar stores.
Tampa, Florida (PRWEB) April 20, 2015
VOLT® Lighting, a fast-growing factory-direct manufacturer of lighting products, announced today the opening of a Northeast distribution center. VOLT® has always shipped orders the same day, but also recognized the need to speed up transit time for delivery. They are accomplishing this by expanding their distribution capabilities to include regional centers.
With the opening of this new facility, the company now warehouses and ships from the North, South and West. 85% of US customers receive their orders within 48 hours, while 55% receive within 24 hours – all using standard ground delivery.
Richard Ferraro, VOLT®'s Director of Operations, comments on the new facility, "With this new Northeast location we reach a milestone -- a majority of US residents now receive their VOLT® order the next day with standard ground service. This next-day delivery takes away one of the last reasons people were buying from brick-and-mortar stores. VOLT® always provides better quality, lower prices and online convenience for professional-grade outdoor lighting, and now the delivery is incredibly fast."
Ferraro's comments underscore a trend among Internet retailers who expand their distribution capabilities to offer faster shipping. It is, however, not typical for the professional lighting industry. Most manufacturers in that sector are hampered by a distribution chain that contributes to slower delivery and higher prices. The VOLT® Lighting model of factory-direct online selling (combined with nationwide distribution) transfers efficiencies and cost savings from manufacturer to lighting professional to consumer.
Ferraro continues, "VOLT® Lighting's success is only partly due to our expanding distribution. We are a passionate team of professionals who excel at every stage of the process – from product design to customer support."
About VOLT® Lighting
VOLT® Lighting, leading factory-direct manufacturer, offers professional-quality indoor and outdoor lighting fixtures and complete landscape lighting system components. Producing some of the industry's most advanced lighting products, the company leverages the latest in LED and control technologies. For more info, go to http://www.voltlighting.com.