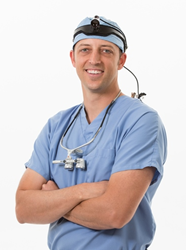 Fresno, CA (PRWEB) April 16, 2015
Dr. Scott R. Jett is excited to announce that he is certified in the new gum recession treatment called the Chao® Pinhole Surgical Technique (PST™). This therapy is currently one of the most talked about advances in dentistry. Dr. Jett believes that, as a periodontist, he owes it to his patients to provide the most effective treatment options possible, so he has completed the training and certification process in PST™. Now those with receding gums in Fresno, CA do not have to travel out of the city in order to get the help they need for this common oral condition.
PST™ can often replace traditional gum grafts in treating recession. No cutting or stitches are required, making it a significantly less stressful option for patients. Because it is minimally invasive, individuals heal faster and generally experience fewer complications. To perform the procedure, Dr. Jett creates a small pin-sized hole near the area of gum recession. He then uses specialized instruments that work through the opening to gently lift the gums from their poor placement and ease the tissues into a healthier location.
So many suffer from receding gums in Fresno, CA that the problem is often brushed off as unimportant or as an aesthetic issue. While it is certainly true that recession can be unsightly, it is concerning that some assume it does not affect oral or general health. The initial stages of recession are not painful, but as an increasing amount of unprotected root is exposed, teeth become hypersensitive and prone to decay. Over time, gum recession can cause teeth to lose so much support that they become loose in their sockets even if they do not fall prey to cavities. Sadly, too many people find themselves in a position where they must have teeth extracted due to recession that would have been treatable had they sought help earlier.
Dr. Jett invites anyone who is interested in learning more about treatment for receding gums in Fresno, CA to visit his website or call his office. Thanks to PST™, Dr. Jett is confident that he can provide solutions to those suffering from this common dental problem. He is happy to schedule private consultations to set up individualized treatment plans.
About the Doctor
Dr. Scott Jett is a periodontist offering personalized dental care for patients in Fresno, CA. Dr. Jett has been setting the highest standards of excellence in periodontics, gum surgery and dental implants for nearly ten years. With a practice emphasis on dental implants and periodontal surgery, he continues to be a leader in the Fresno area. He earned his undergraduate degree at Auburn University and his dental degree at the Medical College of Georgia School of Dentistry before completing specialized post-graduate training in periodontics, as well as earning a Master of Science degree in bone physiology, from the Medical College of Georgia. In addition, Dr. Jett is a published author and an active member in many leading dental organizations, including the American Dental Association, American Academy of Periodontics, International Congress of Oral Implantologists, Fresno Madera Dental Society and the 3i Implant Innovations STP Study Club. To learn more about Dr. Jett and the services he provides, please visit his website at http://www.jettperio.com or call (559) 339-0826.