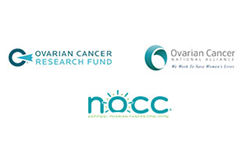 (PRWEB) April 20, 2015
Today the members of the new Stand Up To Cancer-Ovarian Cancer Research Fund-Ovarian Cancer National Alliance-National Ovarian Cancer Coalition Translational Research Dream Team were announced. The Dream Team will focus on "DNA Repair Therapies for Ovarian Cancer," building on recent advances that have identified DNA repair as a common weakness in ovarian cancer. Researchers will also explore the prevention and early detection of ovarian cancer by developing a web-based approach to genetic testing and counseling. Dream Team researchers hope to offer women identified as genetically high-risk a choice of surgical options, including one that removes the fallopian tubes but spares the ovaries. The Dream Team grant will provide funding over a three-year period, starting in July 2015.
This project was selected by a Joint Scientific Advisory Committee made up of experts in ovarian cancer. Jeff Boyd, PhD, Vice-Chair of the Committee says, "The Dream Team project aims to significantly impact ovarian cancer mortality and incidence through novel drug therapies, and improved risk assessment and prevention by focusing on DNA repair pathways and mutations in genes that control them. We anticipate that the results of this study will be game-changing, with two relevant, near-term clinical applications."
The new Dream Team will be led by Alan D'Andrea, MD, of the Dana-Farber Cancer Institute and Harvard Medical School, and by Elizabeth M. Swisher, MD, of the University of Washington. The project also involves researchers at the Mayo Clinic, University of Chicago, University of Texas MD Anderson Cancer Center and Memorial Sloan Kettering Cancer Center. The Dream Team also includes three patient advocates: Kathleen Gavin, executive director of the Minnesota Ovarian Cancer Alliance; Sue Friedman, executive director of FORCE (Facing Our Risk of Cancer Empowered); and ovarian cancer survivor Jamie Crase.
Ovarian cancer is the deadliest of all the gynecologic cancers. More than 21,000 American women will be diagnosed with ovarian cancer in 2015, and more than 14,000 women will lose their lives to the disease. By collaborating to fund an Ovarian Cancer Dream Team, OCRF, OCNA and NOCC, with SU2C, will further research in the field that can lead to new treatments and improved patient outcomes.
About Ovarian Cancer Research Fund
Ovarian Cancer Research Fund (OCRF), founded in 1994, is the oldest and largest charity in the United States funding ovarian cancer research, and ranks third in overall ovarian cancer research funding only after the National Cancer Institute (NCI) and the Department of Defense (DOD). Its mission is to fund scientific research that leads to more effective identification, treatment, and ultimately a cure for ovarian cancer, as well as related educational and support initiatives. OCRF has invested over $65 million in ovarian cancer research through 237 grants to scientists at nearly 70 leading medical centers in the United States. OCRF continues to take the lead in funding the best and most promising ovarian cancer research while supporting women and their loved ones affected by this terrible disease in the quest to end it. For more information, please visit http://www.ocrf.org
About the Ovarian Cancer National Alliance
The Ovarian Cancer National Alliance (OCNA) is a powerful voice for everyone touched by ovarian cancer, connecting survivors, women at risk, caregivers and health providers with the information and resources they need. OCNA ensures that ovarian cancer is a priority for lawmakers and agencies in Washington, DC, and throughout the country. OCNA helps the community raise their voices on behalf of every life that has been affected by this disease. For more information, please visit http://www.ovariancancer.org
About The National Ovarian Cancer Coalition
Since its inception in 1995, the National Ovarian Cancer Coalition (NOCC) has been committed to raising awareness, promoting education, and funding research in support of women, families, and communities touched by ovarian cancer. NOCC is well-established as an important national advocate for patients and families struggling with ovarian cancer, and remains steadfast in its mission to save lives by fighting tirelessly to prevent and cure ovarian cancer, and to improve the quality of life for survivors. For more information, please visit http://www.ovarian.org, and follow NOCC on Facebook, Twitter, Instagram, Pinterest, and YouTube.
About Stand Up To Cancer
Stand Up To Cancer (SU2C) raises funds to accelerate the pace of research to get new therapies to patients quickly and save lives now. SU2C, a program of the Entertainment Industry Foundation (EIF), a 501(c)(3) charitable organization, was established in 2008 by film and media leaders who utilize the industry's resources to engage the public in supporting a new, collaborative model of cancer research, and to increase awareness about cancer prevention as well as progress being made in the fight against the disease. As SU2C's scientific partner, the American Association for Cancer Research (AACR) and a Scientific Advisory Committee led by Nobel Laureate Phillip A. Sharp, PhD, conduct rigorous, competitive review processes to identify the best research proposals to recommend for funding, oversee grants administration, and provide expert review of research progress. For more information, please visit: http://www.standup2cancer.org
###
Ovarian Cancer Research Fund: Sabrina Valvo, svalvo(at)ocrf(dot)org, (212) 268-1002
Ovarian Cancer National Alliance: Lisa Mauti, lmauti(at)ovariancancer(dot)org, (202) 517-6410
National Ovarian Cancer Coalition: Joyce Monaco, jmonaco(at)ovarian(dot)org, (949) 385-6170