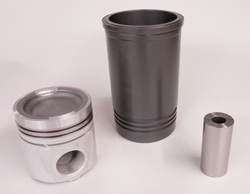 SAVINGS WITHOUT RISK
Torrance, CA (PRWEB) April 18, 2015
IPD, a leading aftermarket provider of engine components for heavy-duty engines, announces the launch of a new replacement parts product line for Cummins® K19, KT19, KTA19, & KTTA19 engines. IPD parts for these applications are offered within the following categories:

Piston Kits
Cylinder Liner Kits
Cylinder Head Components / Valvetrain
Engine Bearings
Lubrication System Components
Fuel System Components
Gasket Sets
Miscellaneous (Cooling System Components, Cam Followers, Gaskets & Seals)
IPD continues to expand the IPD brand of high quality replacement parts for heavy-duty work engines. "IPD has a long and successful history manufacturing high quality parts for Cummins engines, including K19 series applications," notes Egan Hernandez, Marketing Manager for IPD. "IPD is dedicated to providing high quality, reliable and cost effective service parts for heavy-duty engines, and these K19 Series engine applications represent a significant service and savings opportunity for our customers."
For more information on IPD and these new products, please visit http://www.ipdparts.com. We may also be reached via email at sales(at)ipdparts(dot)com.