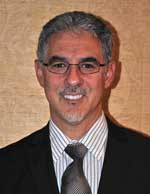 Wilmette, IL (PRWEB) April 16, 2015
Dr. Dino Mantis is excited to announce that he is now accepting new patients with or without a referral for modern dental implants in Wilmette, IL. Dental implants are the preferred method of tooth replacement for many people because they are permanent and offer unique benefits that mimic the function of natural teeth. Mantis Dentistry & Implant Center can help everyone, from those who need a single tooth extracted to those who are missing all of their teeth. As a dentist in Wilmette, Dr. Mantis has over 10 years of experience placing implants, and welcomes anyone for a consultation.
Dental implants have rapidly grown in popularity as more people learn about the unique benefits they offer. They are the only prosthetic available today that maintains bone health, in addition to appearing natural. An important fact that few patients realize is that the jaw bone quickly deteriorates once teeth are extracted. The bone around teeth requires the pressure that chewing and biting create in order to stay healthy. Every time teeth put pressure on the bone that supports them, the pressure stimulates the bone to remain healthy and strong. Once that stimulation disappears following an extraction, the bone begins to break down. Dental implants combat this problem because they are inserted into the bone. Once the jaw bone heals around a new implant, it incorporates the post much like it does the roots of natural teeth. Every time patients with implants eat, the important stimulating pressure is delivered to the jaw.
Tooth loss is a serious problem, which can lead to a decline in general health and a loss of self esteem. Dr. Mantis believes that everybody deserves to feel proud of his or her smile. An important step toward making that happen is to visit a dentist in Wilmette, IL, to develop a treatment plan. Whether patients are missing a single tooth or many teeth, Dr. Mantis can help them create individualized plans that restore the beautiful smiles they once enjoyed.
For those looking for more information on modern dental implants in Wilmette are invited to visit Dr. Mantis' website at http://www.drdinomantis.com or call (847) 256-4776 to schedule a consultation. Dr. Mantis is happy to discuss restoration and treatment options available.
About the Doctor
Mantis Dentistry and Implant Center is a general practice offering personalized dental care for patients in Wilmette, IL. Dr. Dino Mantis has extensive experience performing various procedures in the fields of restorative dentistry, orthodontics, and cosmetic dentistry. Dr. Mantis offers a holistic approach to dental care, taking into account the health of each patient's teeth and gums as well as the jaw joints and facial muscles. Dr. Mantis graduated from Loyola Dental School with a Doctor of Dental Surgery Degree in 1987, and has received advanced training with some of the top names in dentistry. To learn more about the services offered at Mantis Dentistry and Implant Center please visit their website at drdinomantis.com or call (847) 256-4776.