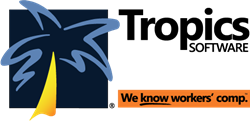 The opportunity to bring our clients together every year in Sarasota to enjoy our piece of heaven and to share ideas with us and with their peers is a vital part of our partnership with our clients, said Mike Mobar, President and CEO of Tropics Software
Sarasota, Florida (PRWEB) April 17, 2015
Tropics Software Technologies, a provider of advanced software solutions to the workers' compensation industry, held its 2015 Users' Conference at the Lido Beach Resort from April 7th through April 10th. This highly anticipated conference brings many of Tropics' clients together every year to share ideas, learn new features, provide feedback and advice regarding the software to the Tropics Software's team, and to enjoy the beautiful beaches and sun and fun activities of Sarasota at this time of the year.
The agenda for this year included informative sessions, hands on workshops, and several fun activities including kayaking, golf, beach games, Painting with a Twist, and shopping. Tropics hosted 80 clients from 21 different companies from around the country who rated the conference as near perfect.
The sessions covered a variety of topics for every user at every level including Business Intelligence, Underwriting Workbench, Web Portals, Data Visualization Dashboards, and Predictive Analytics. Other sessions/workshops included overviews of new features, exploration of new software modules, and the exchange of best practices. The participation of all of the conference attendees brought greater depth to the learning opportunity. Tropics received Excellent or Above Average rating for all sessions.
Amongst the variety of fun activities: Bermuda Mavericks Comedy Show, the dinner Sunset Cruise on Sarasota Bay, and the closing dinner/dance banquet where a number of clients took part in entertaining contests were well received and applauded.
"The opportunity to bring our clients together every year in Sarasota to enjoy our piece of heaven and to share ideas with us and with their peers is a vital part of our partnership with our clients," said Mike Mobar, President and CEO of Tropics Software Technologies. He added that, "every year, we come away from the conference, reassured and reenergized about our mission and the trust that our clients bestow on us."
About Tropics Software Technologies:
Tropics Software Technologies is a national software company specializing in workers' compensation systems. They provide integrated, web-enabled policy, claims and billing systems. Tropics offers a comprehensive set of configurable modules, based on a common foundation of automated work and document management, which boosts business efficiency.
For additional information, please contact Jennifer Raymer at (888) 925-1234 Ext 4338, by email at jennifer(dot)raymer(at)gotropics(dot)com, or visit our website at http://www.gotropics.com.