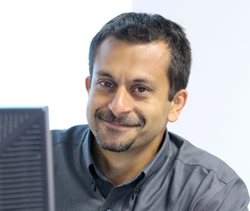 Plainfield, IL (PRWEB) April 17, 2015
Asif Rehmani will deliver two sessions at the SharePoint Evolution Conference held at the Queen Elizabeth II Conference Centre in London, UK from April 20-22.
The 2015 SharePoint Evolution Conference offers attendees a total of 8 tracks including two completely new tracks for Azure and Office 365. There are sessions for everyone regardless of which version and platform of SharePoint companies are using today or plan to use in the future. The speakers for each track have been invited personally to ensure that the conference offers the right people with real world knowledge to deliver sessions to the right depth that each topic requires and deserves.
Some highlights of the conference include:

Over 160 sessions across 8 tracks, delivered by Global SharePoint Experts, Microsoft Speakers and MVP's
Covering everything from deploying to configuring to upgrading to migrating, hybrid and more
Dedicated Tracks for On Premises, Azure, Office 365, Information Workers and Business
Excellent entertainment and social events
Session videos, audio files, presentation slides for all attendees
Asif Rehmani has been a speaker on SharePoint topics at several conferences around the world including Microsoft's TechEd, SharePoint Conference, SPTechCon, SharePoint Connections, Best Practices Conference, SharePoint Saturdays, SharePoint Roadshows and more. He is delighted to be participating in the SharePoint Evolution Conference and will be delivering the following two sessions:
Monday, April 20: 4:15 - 5:15 pm: What can I do as a Power User in SharePoint Online?
There is a great developer story with the introduction of Apps now in SharePoint Online. This session will explore the different no-code development opportunities in the cloud.
Wednesday, April 22: 2:00 - 3:00 pm: Stop working For SharePoint and make it work for You!
In this session, Rehmani will talk about how organizations can make their users fall in Love with SharePoint and help drive end user adoption of the platform.
To learn more or register for the conference, visit SharePoint Evolution website.
About Asif Rehmani
Asif Rehmani is a SharePoint Server MVP, Microsoft Certified Trainer MCT, and Consultant. He is founder of VisualSP, a company that empowers SharePoint users and administrators by providing education and support by offering hundreds of online training tutorials, and the VisualSP-Help System which delivers in-context, on-demand help right through a help tab in the SharePoint Ribbon. Asif is co-author of the books "Professional SharePoint Designer 2007," "Beginning SharePoint Designer 2010" and "Real World SharePoint 2010" by Wrox publications. http://www.VisualSP.com
@sharepointvideo / @asifrehmani