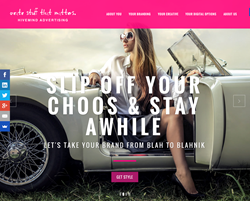 The clients we're interested in want to build brands and websites and experiences that are exciting and compelling.
San Jose, CA (PRWEB) April 20, 2015
HiveMind Marketing, a venerable technology marketing agency in Silicon Valley, is trading silicon chips for Jimmy Choos, fancy headphones, financial services, travel planning, and retail. Consumer accounts, which once made up less than 15% of the agency's business, are now the main focus, both for hiring and outreach.
The agency recently hired an international fashion trend expert to support fashion branding who works with Trend Agencies in London and Paris, and fashion companies around the world. HiveMind hopes to find additional industry-specific personnel to strengthen brand strategy and creative development for other key segments, including consumer electronics, travel and tourism, financial services, and retail.
"The clients we're interested in want to build brands and websites and experiences that are exciting and compelling," states Beth Lauck, Senior Fashion, Social and Branding strategist. "They're setting their sights high, looking for a breakthrough win. We know they have something special to offer, but it needs to be re-discovered, re-languaged, and re-imagined.
To support this radical change, HiveMind rebranded itself. You can visit the firm's new brand identity at its revamped website As you would expect, the site is crammed full of service descriptions, experience, an insightful blog, case studies, creative samples..all the usual stuff. The agency's new tagline: "Create Stuff That Matters", is a philosophy, call to action, and litmus test for creating stronger, more exciting branding concepts for clients.
HiveMind also carves out new territory with its focus on client pain points "Tell Me Where It Hurts". So many agencies talk about understanding their clients, but HiveMind goes a step further. The agency identifies six typical marketing flex-points, or challenges, that a brand might be facing:
How do you deal with a classic David vs Goliath scenario, where you're competing against and being outspent by a market leader?
How do you strengthen your brand after you merge with or acquire another company that changes your product mix?
What do you do when your marketing efforts stall and you're not generating enough sales or qualified leads?
How do you prioritize marketing tasks when you have a longer list of things to do than you can accomplish?
How do you transition your brand and messaging after hiring a new CMO?
What do you do when you're just getting started?
"Everyone talks about pain points, but we wanted to go further, stepping into our clients' shoes and showing them that we understand what they're facing and that we have creative solutions and consulting services that can make a difference," states Tom Lauck, CEO and Creative Director at HiveMind.
The agency's experience and client list are unique, with clients in fashion, travel, consumer electronics, retail and financial services. And they're looking to grow in each of these areas.
About HiveMind
Founded in 1986, HiveMind is a creative advertising agency with deep roots in Silicon Valley and the San Francisco Bay Area, but that also serves clients spanning the globe from Prague to Paris to North America, China, Korea and Japan.
The agency uses a proprietary methodology to approach problems from a different perspective, conducting strong field research about a business and its competitors, establishing trend-setting strategies, and developing exciting creative ideas that strive to reach a higher standard.
HiveMind offers everything from branding, advertising and inbound marketing to creative concepts and website design. The firm is currently accepting clients located across the United States and abroad.
****
Media Contact:
Tom Lauck
tlauck(at)hivemindinc(dot)com
+1 408.266.3162