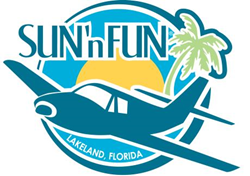 It's such a great partnership for us as we are always honored to work with like-minded organizations as we both strive to provide the ultimate traveling experience while ensuring a family friendly atmosphere.
Tampa, Florida (PRWEB) April 17, 2015
Lazydays, the RV Authority and the world's largest RV dealership has partnered with SUN 'n FUN on their 41st Annual International Fly-In & Expo. The SUN 'n FUN International Fly-In & Expo will take place April 21th–26th at the Lakeland Linder Regional Airport in Lakeland, Florida. All proceeds will benefit the Aerospace Center for Excellence on the Sun 'n Fun campus. The facility boasts aviation-based STEM (Science, Technology, Engineering and Math) curriculums through year-round programs and activities, and is also home for the Central Florida Aerospace Academy.
Lazydays will provide 20 RV units to serve as mobile offices and hospitality stations to accommodate the SUN 'n FUN staff throughout the six day event. In addition, Lazydays will be setting up an on-site RV display and sale with 15 units on "Rocky Road" near the RV campground. The exhibitor area will feature a Lazydays booth with prizes and giveaways for guests from noon until 2 p.m., on April 25th and 26th. Lazydays has a long-standing commitment to education and training. Their RV Driver's Confidence Course, taught by RV experts, includes a hands-on-the-wheel instructional session and a classroom session that offers RV driving tips and techniques for new and seasoned RV owners to sharpen their skills.
"This event features one of the best airshow line-ups and camping expos in the nation and we are excited to partner with them," said John Lebbad, Chief Marketing Officer for Lazydays. "It's such a great partnership for us as we are always honored to work with like-minded organizations as we both strive to provide the ultimate traveling experience while ensuring a family friendly atmosphere."
"The SUN 'n FUN International Fly-In and Expo is the premiere springtime destination for aviation enthusiasts from all over the world," said Greg Gibson, Director of Operations. "One of the best experiences to be had is RV'ing to Lakeland and camping right here on the SUN 'n FUN grounds. Having an expert RV organization like Lazydays as a partner truly validates this experience, and the products and services they represent complete the picture of quality that we want our visitors to feel."
About Lazydays
Lazydays®, founded in 1976, is the world's largest RV dealership. Based on 126 acres outside Tampa, FL since 1996 and over 30 acres in Tucson, AZ since 2011, Lazydays has the largest selection of RV brands in the nation. Lazydays features nearly 300 service bays, more than 1,700 new and pre-owned RVs, and 2 onsite campgrounds with over 700 RV campsites. Lazydays has built its reputation on providing an outstanding customer experience with exceptional service and product expertise, and as a place to rest and recharge with other RVers. More than a quarter million RVers and their families visit Lazydays every year, making it "their home away from home." Lazydays has been recognized as one of "Top 50 RV Dealer" by RV Business and one of Tampa Bay's "Top Work Places." The Lazydays Employee Foundation, supported by payroll contributions from over 70% of Lazydays' employees, has contributed more than one million dollars to make many historic changes for at-risk children in the Tampa Bay and Tucson communities. For most people, Lazydays isn't just the beginning of their journey; it's very much a part of their ride. To learn more, visit http://www.Lazydays.com.
###