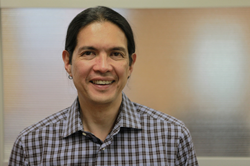 The breadth of Miguel's experience makes him a perfect fit for our company and its growth initiatives, especially now as rapidly-evolving mobile technologies continue to shape the future of the parking industry.
New York, NY (PRWEB) April 17, 2015
TICKETECH, a leading provider of parking industry technology, announced the hire of Miguel del Rosario, a creative, hands-on professional with over 20 years of experience in software development, product design, and managing business processes to drive revenue and increase market share while managing costs. Miguel will direct product development and information technology for the growing company.
As Director of Software Development and Information Technology, Miguel heads up the development and implementation of new software platforms, applications, and interfaces for TICKETECH. Along with overseeing the department's day-to-day operations which include networking support, user services and telecommunications, Miguel's key duties include strategic collaboration with TICKETECH's senior management team on the development of new technologies, including the new TICKETECH Dashboard tool and the soon-to-launch Mobile Point of Sale system. He will also advise on the integration of third party programs and applications, including those that enable consumers to manage parking activities from their smartphones. The latest apps offer services including garage location and rate comparison services, reservation systems, couponing, and mobile payments.
"Every new product and service we launch is developed with our clients' business goals in mind," said Mauricio Cotto, TICKETECH's Chief Operating Officer. "The breadth of Miguel's experience in software engineering combined with his extensive background in product design and business process management make him a perfect fit for our company and its growth initiatives, especially now as rapidly-evolving mobile technologies continue to shape the future of the parking industry."
Miguel's expertise spans Internet technologies, e-commerce, online marketing & social media, mobile applications, data modeling, cloud computing, media streaming, systems integration, and product design. His diverse background covers software design and engineering, product development, user experience, network operations, global outsourcing, and quality assurance.
Prior to joining TICKETECH, Miguel was a Principal Consultant at Zaium Projects, providing design, project management, and software development services on projects ranging from web tools for an e-commerce property company; product development for a Content Management System company; and developing a large-scale industrial robotics interface. Prior to that, he was a Senior Developer for the Northwest Evaluation Association, a supplier of educational assessment software. He also co-founded and served as President of Agilid, an IT and software integration company providing virtualization and cloud services, unified communications, network infrastructure and security services, and special product development. Miguel holds two Master's degrees, in Computer Science and Computer Engineering. His experience managing teams of various sizes spans organizations based locally in New York as well as those located nationally and internationally.
About TICKETECH
Founded in 1972, TICKETECH's integrated parking management and revenue control technology powers over three-quarters of valet/attended parking facilities in the New York Metropolitan area, also serving clients throughout the Northeast with over 1,100 systems in operation. TICKETECH also manages an online data center that delivers web-based data analysis and reporting to parking owners and operators, providing valuable tools for revenue enhancement and expense management.