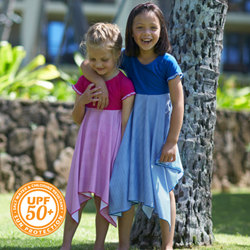 ...our UPF 50+ products provide all-day sun protection you and your family will not want to take off.
Sonora, CA (PRWEB) April 17, 2015
UV Skinz, a leading provider of sun protective clothing, recently launched their 2015 Spring Collection of Sun and Swimwear, and it's full of stripes! The new collection fuses their bestselling Sun and Swimwear essentials with stylish new pinstripe prints resulting in a creative and sun protective twist on the insanely popular stripe trend. Each striped piece is made with UPF 50+ polyester warp knit fabric that is brand new for the collection, and may be their softest and most comfortable fabric to date. From fabulous pink, to sophisticated navy, to classic black and white, this line has fashion-forward UPF 50+ options for every taste and family member.
Some key features of the UV Skinz Sun and Swimwear Line include:

The highest level of UV Protection, always. Products are tested and rated in accordance with the AATCC 183 and ASTM D6544, resulting in a UPF rating of 50+, every time for every product.
Transitional pieces that can be worn in or out of the water, from sunrise to sunset
Vibrant and FUN designs that you won't want to take off
Lightweight fabrics that are soft, cool to the touch, quick-drying and great for outdoor activities and/or everyday wear
Sizes that range from 3 months to 4XL. Every age, shape, and size should be protected from the sun!
"Whether you're enjoying family time at the park or the beach, or cozying up on the front porch with a loved one watching the sunset…our UPF 50+ products provide all-day sun protection that you and your family will not want to take off," says founder and CEO, Rhonda Sparks. More than 2 million cases of skin cancer will be diagnosed this year, and current estimates state that 1 in 5 Americans will develop skin cancer in their lifetime. UV Skinz hopes to change these statistics by raising awareness regarding the need for year-round sun safety practices, and by providing sun protective clothing options that are highly fashionable, reasonably priced, and effortless for the user.
The 2015 Spring Line can be viewed and purchased at http://www.uvskinz.com.
About UV Skinz, Inc.
UV Skinz, Inc. was founded in 2006 after creator and CEO, Rhonda Sparks, lost her 32-year-old husband, Darren, to melanoma. The company offers a complete line of infant, children, and adult sun-protective clothing and accessories that each carry a UPF rating of 50+, which blocks over 98% of the sun's harmful UVA and UVA rays. In addition to providing high quality sun protective apparel, UV Skinz, Inc. sponsors and donates to hundreds of skin cancer awareness organizations and events annually.