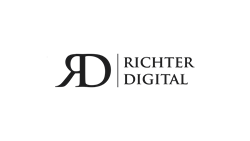 "This initiative, is the right thing to do. It's not about money, it's about creating things, and leveraging technology to do so effectively." - John Richter, Owner of Richter Digital, LLC
Royal Oak, Michigan (PRWEB) April 18, 2015
Richter Digital, LLC, a digital marketing company located in Royal Oak, Michigan, has announced that they will be offering to build new mobile-friendly websites for new clients starting at just 250 dollars. This comes as a response to Google's upcoming algorithm update which is slated for April 21st, 2015 according to a recent Google blog post published on February 26th, 2015. This offer is available to applicants who submit requests to the company prior to May 1st, 2015.
This update, named by the media as "Mobilegeddon," will impact search results worldwide and is expected to include the addition of "mobile-friendliness" as a search engine ranking factor.
"In 2015, we anticipate mobile traffic will surpass desktop traffic on the internet," said John Richter, Owner of Richter Digital. "We knew this day would come, and it's our job as an industry to provide a smooth transition for business owners." He ended in saying, "This initiative, is the right thing to do. It's not about money, it's about creating things, and leveraging technology to do so effectively."
With so many websites today still not optimized for mobile use, local businesses across the world are preparing in short order to move to a more mobile-friendly platform, if they haven't done so already.
Most content management systems (CMS) have mobile-friendly options for websites, but if a website is older, or hasn't been updated it in a while, it may see significant decreases in traffic from search engines if it isn't optimized for mobile devices.
To apply for this program, contact John Richter at John(at)RichterDigital(dot)com, or by phone at 231.349.3222. they also have a form available on their website, which is located at http://www.richterdigital.com//google-algorithm-update-mobilegeddon.
About Richter Digital LLC
Richter Digital delivers web design, and search engine optimization at a flat-rate fee to clients nationwide. The company was founded in 2014, by owner John Richter, and has since growth to serve companies all over Michigan. The companies mission is to empower local businesses by leveraging the best in marketing technology and easy to understand reporting.
For more information check out http://www.richterdigital.com or email John Richter at JohnRichter(at)Richterdigital(dot)com.