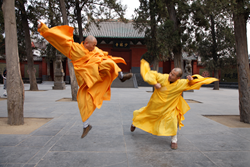 With DeRu living in the Atlanta area, the community has the good fortune to lay claim to exceptional educational opportunities.
Atlanta, GA (PRWEB) April 24, 2015
A group of Southern Americans will take advantage of a rare opportunity to live together with a group of young Chinese for two weeks from July 21 to August 5, 2015. During this two-week adventure the Americans and Chinese will be challenged to avoid conflicts due to cultural differences, ideological differences, and educational differences, because they are going to be required to function as one team, living and traveling together throughout half of China to train in the Chinese language and Kung Fu martial arts as a part of this SWF (Shaolin World Federation: shaolinchan-foundation.org) multicultural education project.
These Americans will also take this rare opportunity to study directly with two 31st generation Grand Masters of the Shaolin Temple Shi DeYang (Shi Wan Feng), and Shi DeRu (Shawn X. Liu), as well as other well-known Masters.
In the 2-week of martial arts training and cultural sharing, the Americans will learn from the highly disciplined Shaolin Master Warriors and experience the way of high consciousness. The philosophies and wisdom of the Masters will be shared and discussed to help students to grow spiritually, physically and mentally.
"Are you qualified to be on the trip?" challenged the coordinator of the program, Vatsana Chanthala, to a few Shaolin Institute students in New Orleans. She continued with, "Do you want to have this cultural experience mentally and spiritually? You will never know until you experience it through your own participation."
The topics for China training and cultural experience sharing will include Chan (Zen) meditation and multicultural communication in bilingual languages. "Will this experience unveil a potential self-nature to bring each individual in closer connection to each other and to cosmic intelligence with internal compassion and Qi healing? Or will they remain in conflict? That needs to be seen," said the assistant coordinator, Sunshine Hebert.
Each individual will learn traditional Shaolin Kung Fu forms. They will learn how to decode those forms through the applications, which is a natural way of self-defense. Kung Fu weapons and Shaolin combat self-protection techniques will also be part of the training.
Apart from the many hours per day of Kung Fu, Zen-Tai Gong and Tai Chi-Qi Gong training, the groups' education will be rounded out with Chinese arts, culture and Chinese-English languages. They will visit many famous Chinese art centers and universities, the modern financial center of Asia-Shanghai, the beautiful western lake of Hangzhou, and the Great Wall of China. They will eventually travel to the China heart land in rural areas where it is rare for any foreigners to go.
There will be many private meetings with internationally recognized martial artists, natural healers, and artists, including Wushu legendary Master Wu Bin, Jet Li's mentor.
"Our Shifu (Shi DeRu) has opened an extraordinary door to effective mind-body integration; I will never be the same. Though the experience was Shaolin tough just as you would expect, the China experience was also filled with exceptional cultural exchanges and royal treatments one would never find on a tour. It does not get better than this," said Georgia Gromov, a student at the Atlanta campus who has been on one of the training trips.
It is rare to find a true disciple of Great Grand Master Shi SuXi, who is the late principle monk of The Shaolin Temple Southern Yard, living and teaching outside of China. With DeRu living in the Atlanta area, the community has the good fortune to lay claim to exceptional educational opportunities. The Norcross-based Institute attracts local residents and internationally recognized athletes from around the world who train there to further their studies with DeRu in Martial Arts and a deeper level in ancient wisdom of the Shaolin Zen Culture, its arts, philosophy and Zen way of living.
About The SWF
The Shaolin Chan Foundation is a nonprofit organization, Section 501(c)(3), that is operated under the name of the SWF (Shaolin World Federation), which is dedicated to promoting Chan living, cosmic intelligence of conscious universe Qi and natural health martial arts. Details on the China program: 770 286 9808 or http://www.shaolin-world.net