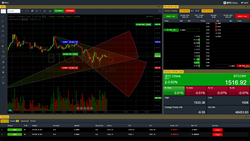 Shanghai, China (PRWEB) April 20, 2015
BTCChina has teamed up with MrGekko, the world's first professional multi-dealer platform, to empower traders of all levels with new order types, sophisticated charting tools and access to the world's most liquid exchanges. Additionally, all BTCChina traders are invited to try the new service with 100 free trades for the first 30 days on the integrated interface.
Completely based on cloud technology, MrGekko raises the bar in bitcoin trading technology as the first platform of its kind dedicated to digital currencies. By simply logging in through their BTCChina account, traders will be able to place market, limit, stop-loss, trailing-profit and bracket orders on BTCChina and other world-leading exchanges, all in one seamless environment.
MrGekko's customizable layout allows for side-by-side display of different charts, 60-plus technical indicators, time intervals and patterns, allowing real-time insight into the market conditions most relevant for any trading strategy.
Place market, limit, stop, trailing stop, take-profit or bracket orders by clicking directly on the chart or directly in the order book corresponding to where the trader wants their order to be executed. In the case of a bracket order, this method also displays the Profit & Loss ratio each point would represent, allowing the traders to determine their optimal trading strategies.
MrGekko's Advanced Charting Engine, features over 60 real-time indicators, provides traders with the market metrics they need, including Bollinger Bands, Stochastic RSI and MACD. In-chart drawing and additional special features allow for customizable designs and execution of your preferred strategies such as Elliot Waves.
In addition to the technical suite, MrGekko also offers a number of in depth training videos for those learning to leverage the tools. Traders looking to up their game needn't be intimidated by the advanced tools -- MrGekko's intuitive interface is easy to navigate and accessible to all traders, regardless of level.
_________________________________________________________________________________________________
Founded in 2011, BTCChina is the world's oldest continuously operating bitcoin exchange and the largest by trading volume. BTCChina offers Bitcoin and Litecoin trading, payment, and mining services, and has built a strong reputation based on years of secure, reliable service.