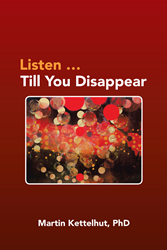 By learning to listen well, we can get all of the things we want in this life effortlessly and ethically: wealth, great relationships, purpose, health and happiness
Denver (PRWEB) April 21, 2015
Listening can be the key to creating a world with profound success.
In his new book, "Listen Till You Disappear," Dr. Martin Kettelhut discusses the importance of cutting through the noise of life. Kettelhut's teachings help readers learn what is ultimately going to take them further in life and understand how to achieve both personal and professional goals.
"By learning to listen well, we can get all of the things we want in this life effortlessly and ethically: wealth, great relationships, purpose, health and happiness," said Kettelhut. "Just listening properly can help anyone break through to a substantially better way of living."
In his book, Kettelhut guides readers to help them hear what's important. By doing so, Kettelhut brings to light the importance of active listening as a way to improve one's life.
"My training as coach and mediator has turned me into a really good listener. And it's this depth of listening that makes the difference," said Kettelhut. "So I'm motivated to pass on what I've learned about good listening, and how it can make life more fulfilling."
For more information about Kettelhut and his book, visit http://www.listeningisthekey.com
"Listen…Till You Disappear"
By Dr. Martin Kettelhut
ISBN: 9781483422565
Paperback: $25.00
Available at Amazon, Barnes & Noble, Lulu
About the author:
Dr. Martin Kettelhut has co-founded two successful training companies and served as their head coach. He leads seminars and retreats on life-purpose, communication, time structuring, relationships, productivity, and intentionality. Dr. Kettelhut's current interest is how listening is the key to innovation. His variety of experience helped him write "Listen…Till You Disappear."
###