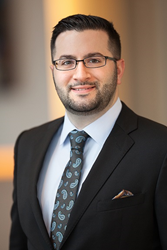 With so many outstanding nominations for just 35 awards, Vince is indeed in rare company. -Joe Kornik, Consulting magazine editor-in-chief
Chicago, IL (PRWEB) April 17, 2015
Vince D'Itri of Aspen Advisors, part of The Chartis Group, was recognized with a Rising Star of the Profession award by Consulting magazine last night in Chicago, IL. The award honors 35 consultants under the age of 35 whose work is redefining the consulting profession. D'Itri was honored as the healthcare industry category award winner for his career of making a meaningful impact for clients including recent work.
Over the past two years, D'Itri has been leading an effort to network academic medical centers and other notable institutions across the U.S. to identify and engage local patients for clinical trials and research studies through their electronic health records (EHRs). His team is tasked with creating the informatics tools and regulatory infrastructure that are required to leverage the EHR across participating sites, thereby across the nation. By increasing participants of clinical trials, making them more effective, new treatment options can come to market sooner.
"Vince was one of the first five consultants to join Aspen Advisors. It has been great to see what he's accomplished since then, the growth in his career and the impacts he's made for clients. He is skilled at understanding the client's vision and managing each assignment to deliver meaningful results," said Daniel Herman, Director and Informatics and Technology Practice Leader at The Chartis Group. "He also gives back to the profession by mentoring new consultants."
"Consulting magazine's Rising Stars of the Profession winners feature an impressive array of movers, shakers, and wunderkinds — leaders all who tend to deflect praise and prefer to credit those around them," said Joe Kornik, Consulting magazine editor-in-chief. "In simplest terms, they want to change the world – or at least leave it in much better shape than they found it. They are, in a word, redefining the consulting profession. With so many outstanding nominations for just 35 awards, Vince is indeed in rare company."
"It is an extraordinary honor and a much unexpected one at that," said D'Itri. "To have been nominated by your colleagues means that not only are you providing value and making a difference for your clients, but your colleagues also care and are taking notice. That is a very special feeling that I will never forget."
About Aspen Advisors
Aspen Advisors, part of The Chartis Group, is a top-ranked IT advisory services firm that that works with leading healthcare organizations across the country to enhance care delivery, improve community health status, and achieve market distinction through the strategic and effective use of technology. In 2014, Aspen joined The Chartis Group to bring clients leading-edge thought leadership and capabilities in strategic planning, accountable care solutions, clinical transformation and information technology. The firm has earned accolades for its culture, service delivery and growth. Aspen Advisors was named among the top 20 in Modern Healthcare's "Best Places to Work in Healthcare" in 2011, 2012, 2013 and 2014 and earned several honors from Consulting Magazine, including being named one of its "Best Firms to Work For" in 2012 and 2014 and one of the "2014 Seven Small Jewels." Aspen has consistently ranked highly in KLAS' "Best in KLAS Awards." In 2012, 2013 and 2014, Aspen was among the top three firms in KLAS' "Overall IT Services Firms Ranking." Learn more at http://www.aspenadvisors.net.
About The Chartis Group
The Chartis Group is a national advisory services firm dedicated to the healthcare industry. Chartis provides strategic planning, accountable care, clinical transformation and information technology management consulting services to the country's leading healthcare providers. Chartis has been privileged to work with over two-thirds of the academic medical centers on the U.S. News and World Report "Honor Roll of Best Hospitals," seven of the 10 largest healthcare systems, four of the five largest not-for-profit health systems, nine of the top 10 children's hospitals and many of the nation's emerging accountable care organizations. The firm is comprised of uniquely experienced senior healthcare professionals and consultants who apply a distinctive knowledge of healthcare economics, markets, clinical models and technology to help clients achieve unequaled results. The Chartis Group has offices in Boston, Chicago, New York and San Francisco. For more information, visit http://www.chartis.com.