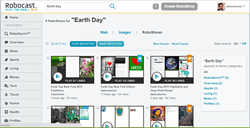 Robocast will be demoing this revolutionary software at Earth Day New York in Union Square NYC on Sunday April 19th, from 11am to 6pm.
New York, NY (PRWEB) April 17, 2015
Robocast Inc. announces the launch of Robocast Social (sm) - an automated player for social media feeds, such as timelines, photo albums, trending news or comedy. Robocast Inc. has managed to survive since the early days of the web when it pioneered automated web browsing and continues to create new, more efficient tools for consuming web content.
By signing into robocast.com with their Twitter or Instagram account, a user can then play their timeline, search and play results, and even play hashtags. For example a user can use Robocast's tool to search Twitter for #EarthDay and automatically be presented with a interactive show experience built from tweets on that subject - including photos, videos, or other content that is linked to in the tweet. No need for the user to keep clicking and scrolling to see all this - it just plays and you can pause or change the speed any time.
Robocast will be demoing this revolutionary software at Earth Day New York in Union Square NYC on Sunday April 19th, from 11am to 6pm. The company has assembled RoboShows filled with historic links to Earth Day events all over the world, with a focus on Earth Day NY during its 25th anniversary as an activist group. The RoboShows provide a hands-free tour of the past, present and future of this group, thru videos and links, including its name change to 'Earth Day Initiative'.
Robocast pioneered automated browsing techniques in the mid-nineties and is still innovating today in its services to users and publishers. "The goal has always been to make digital media use easier and more powerful, through familiar controls," said Robocast CEO Damon C. Torres, inventor of the playlist engine system. "I'm truly excited to enable people to have a deeper engagement with their social feeds through automated browsing with Robocast."
Visitors to robocast.com can use the site without having to log in or create an account. There are hundreds of RoboShows on the site that can be played without joining or installing software. If a user wants to save their own automated browsing experience, they can join by choosing a user name and supplying their email address, or by linking one of their social network accounts. Once logged in, a user can, for example, use RoboSearch(sm) to look up their favorite topics and save shareable RoboShows of links that can include YouTube videos, photos, whole web pages and more.
Robocast.com works in any browser, though Google's Chrome Browser is recommended, and can be accessed from most any device from smart phones to smart TVs through their browser.
For more information visit http://www.robocast.com, email Robocast Inc. at media(at)robocast.com or alliances(at)robocast.com or call (212) 433-2464.
###
About Robocast Inc.
Robocast, Inc. was founded in 1997 based on patents filed by Damon C. Torres. There are five granted patents, and a Software-as-a-Service Playlist Engine Portal at robocast.com that Robocast is licensing to individuals, publishers, and leading software companies. Robocast.com is a portal of playable links with an editorial mission to report on the top playable content in many areas including Activism, News, Sports, Humor, Movies, and Music. Sign-up to help Automate The Web(sm) so others can Play The Web(R) at http://www.robocast.com.
About the Inventor
Damon C. Torres has worked in multimedia technology and arts since the mid eighties when he started his first company ExpoVideo ShowTapes at the tender age of 19. Since then he has worked in broadcast and non-broadcast television, trade show and concert management, multimedia design and consulting. In 1995 Damon began full time work as an inventor that continues to this day, filing patents, negotiating licensing deals and creating technology that is shareable and scalable with Robocast's great teams around the world. He has a BFA from New York University in Television & Film Production.