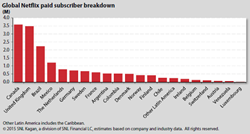 Monterey, Calif. (PRWEB) April 20, 2015
While Netflix Inc.'s international business has yet to turn a profit, the company has seen strong growth in its non-U.S. markets thus far.
Netflix international paid subscribers totaled 16.8 million at the end of 2014. Netflix's first international launch, Canada, also has the distinction of being its largest with about 30% penetration of broadband homes. The U.K. was a close second, while Brazil had the third-largest subscriber base and was the leader in Latin America.
Year-over-year growth was strongest in the Netherlands, which launched late in the third quarter of 2013. Growth tends to be greater in the earliest few months after launch, although Latin America, where Netflix launched services in 2011, had some pretty significant improvements from 2013 to 2014.
Since the service launched in international markets during 2010, Netflix's percentage of subscribers outside of the U.S. has dramatically changed. At year-end 2010, just 1.9% of the total was in non-U.S. territories, compared to 30.8% at the end of last year.
The company announced earlier this year that it will increase its presence around the world, seeking to operate in 200 countries by the end of 2016 (Netflix is currently in more than 50 countries). The international division is not profitable, however, losing $159.8 million last year, although that is an improvement over its 2013 loss of $274.3 million. Netflix estimates that the international division will be profitable overall by 2017.
About SNL Kagan
SNL Kagan, a division of SNL Financial LC, is a comprehensive resource for financial intelligence in the media and communications sector, including the broadcasting, cable, entertainment, motion picture, telecom, wireless, satellite, publishing, new-media industries and media technologies. The SNL Kagan suite of products integrates breaking news, comprehensive data and expert analysis into an electronic database available online and updated around the clock. For more information, visit http://www.snlkagan.com.