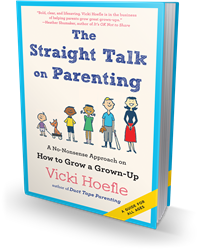 Hoefle offers a course of action that is simple, manageable, and relevant to every family with any parenting challenge.
Boston, MA (PRWEB) April 21, 2015
The Straight Talk on Parenting: A No-Nonsense Approach on How to Grow a Grown-Up, by Vicki Hoefle (Bibliomotion, April 21, 2015).
The prospect of raising an adult while living with a toddler may seem counter-intuitive. Today, they might simply roll over, sit up, crawl, or walk without any assistance. Someday, however, they will leave home and strike out on their own. How are parents supposed to both protect their kids and encourage independence to ensure their children are self-reliant when they leave home at eighteen?
In The Straight Talk on Parenting, Vicki Hoefle presents a philosophy that allows parents to reconcile these two very important roles – protecting and letting go – and to look at the big picture when it comes to growing a grown-up. Drawing on over twenty-five years of experience as a parent educator, and as a mother of six, Hoefle has created a straightforward method to help parents foster independence in children of all ages. Her approach comprises four elements that are designed to raise children with the skills and experience they need to grow into happy, confident, secure, resilient, responsible, compassionate, and hardworking adults:
-Relationship blueprint: Building healthy relationships within the family provides a model for children as they grow and develop other relationships outside of the family.
-Fostering independence: Using Hoefle's Timeline for Training assessment tool, parents learn how to encourage independence by allowing children to make daily choices, participate in family policy discussions, and more.
-Living with a toddler, raising an adult: Parents are responsible for modeling the behavior they want kids to demonstrate. Turn tantrums, meltdowns, and other "red zone" moments into teaching moments by acting or listening instead of talking so that children can develop character traits that will ensure a healthy adult life.
-Intention means intuition: When parents are clear about the intentional routines, structure, boundaries, and limits they put in place to support their family, children mature and grow within a healthy space that allows for order and independence, thinking, and decision-making.
In The Straight Talk on Parenting, Hoefle offers a course of action that is simple, manageable, and relevant to every family with any parenting challenge.
"I believe, with all my heart, that the method I have been using for the past twenty-five years with my own children and with the tens of thousands of parents I have worked with can be used by anyone who is willing to go through the sometimes messy moments that come with trying something new… With practice comes familiarity, and with familiarity comes confidence."
—Vicki Hoefle
About Vicki Hoefle:
Vicki Hoefle is a professional parent educator, author, parent coach, and national speaker with over twenty years of experience teaching parents, educators, and caregivers how to raise respectful, responsible, and resilient children. Hoefle combines her expertise in Adlerian psychology and as an International Coaching Federation certified coach to bring parents sustainable and proactive parenting strategies that provide time-tested tools for harvesting a happy and peaceful family life. The Straight Talk on Parenting; A No-Nonsense Approach on How to Grow a Grown-Up is Hoefle's second book; she is also the author of Duct Tape Parenting: A Less is More Approach to Raising Respectful, Responsible and Resilient Children (August 2012). For more information, please visit http://vickihoefle.com/.
An Interview with Vicki Hoefle, author of The Straight Talk on Parenting:
Q: What prompted you to write this book?
I know as a mother who has raised kids, that paying too much attention to toddlerhood can derail our attempts at raising emotionally healthy, high functioning adults. Finding that sweet spot of living with a toddler while raising an adult became a passion of mine and I wanted to share what I learned with parents everywhere.
Q: How does the book address the pressure modern parents feel to be "perfect"? What is your response to helicopter parents?
First and foremost, I have never met an individual who was close to perfection let alone one who attained it, so it's a myth that needs squashing once and for all. Pretending that we will one day reach perfection in our parenting is an illusive goal that derails our best parenting efforts. It gives children the impression that perfection is an attainable goal and that until they reach that goal they are somehow a disappointment to their parents. Beyond that it teaches children to live with a deep sense of dissatisfaction in their own quest for perfection and that follows them into their adult life. I think parents have figured out that the helicopter style of parenting isn't getting them what they want, neat and tidy kids who do what they're told and are grateful for it. Parents are ready for a more reasonable approach to parenting and one that is sustainable over the long haul.
Q: In the book, you introduce the "relationship blueprint" – what is it and why is it essential for cultivating independent growth and development in children?
I think that we have forgotten that the relationship we develop with our children when they are very young becomes their blueprint for every other relationship they enter into. There are a few components that influence this blueprint. The most important of them is that our children's self-ideal is built on the labels parents use to describe their children. Most often, we hear labels that highlight a pesky behavior. He is stubborn, she is unfocused, he is aggressive, she is sensitive, he is whiney, she is needy. This becomes the child's self-ideal. In the book I talk about how we can help foster healthy self-ideals in our children so that when they are adults they feel good about who they are and accept others for the unique individuals they are.
Beyond that, the ways in which we try and manipulate our kids into behaving as we wish, teaches them that it is reasonable in a relationship to demand that someone change to please you.
I don't think any parent would purposefully send this message to their kids, but it is happening. Instead, I show parents how they can teach children to accept themselves and others and how to navigate through the ups and down of any relationship without demanding someone change for you. The message "If you loved me Johnny, you would pick up your coat for me", is one that is sure to backfire when our kids try to use it on their contemporaries. There are other ways to develop and nurture a cooperative, problem-solving skill set that will assist kids as they mature.
Q: What if a child isn't ready/doesn't want to be independent?
One of my favorite quotes by Dr. Alfred Adler is this – "The sign of unhealthy child is one who is still solely dependent on their parent beyond the age of three." His message is this – children are curious beings who want to explore and conquer their environment. If they have had a healthy, connected relationship with their parents, they are ready to extend themselves out into the world. This is a healthy child. It is only when a child has been convinced that they are some how unable to deal with their environment and require the constant support and attention of a parent that they come to believe that they are incapable of exploring the world on their own. Their dependency increases and their curiosity, which leads to an independent nature, dies.
Q: What do you hope parents take away from this book?
My motto for more than twenty years has been this: I know I have been a success when parents no longer look to me for answers. I truly believe that parents are the true experts in their children's lives and when introduced to a simple method for uncovering causes of misbehavior with solutions that are designed to bring out lasting change and support emotional health in kids for a lifetime, they can do the job without all the experts piping in with their wisdom. There is no magical mystery to raising children; a few straightforward ideas are enough to raise respectful, responsible, and resilient human beings. I want parents to know that if they practice a simple method for just a few weeks, they can solve any problem that comes up in daily life with their kids. That would be a glorious day indeed. Empower the parents, empower the child.
Advance Praise for The Straight Talk on Parenting:
"Bold, clear and lifesaving. Vicki Hoefle is in the business of helping parents grow good grown-ups." – Heather Shumaker, author of It's OK Not to Share
"Hoefle's candid, timely, and straightforward approach is perfect for today's parents." – Amy McCready, Founder of Positive Parenting Solutions and author of If I Have to Tell You One More Time… and The "Me, Me, Me Epidemic"
"I love this book's encouragement to stop the nagging about the messes around the home, and instead focus on my responses and how to model values; the rest will fall into place." – Agnes de Bezenac, author of "iCharacter" children's books
"For parents who are ready to say goodbye to the role of criticizer, nagger, and servant-in-chief and hello to a more deliberate and relationship-focused method of raising children, this book will show you the way." – David C Rettew, MD, associate professor of psychiatry and pediatrics, University of Vermont College of Medicine; author of Child Temperament
About Bibliomotion:
Bibliomotion is a book publishing house designed for the new publishing landscape. While many publishers work to retrofit old processes for new realities, Bibliomotion was founded by book-industry veterans who believe the best approach is a fresh one – one that focuses on empowering authors and serving readers above all else. Moving away from the top-down model that has dominated the publishing process for years, we give each member of the team – including the author – a seat at the table from the very beginning and in doing so, work side-by-side to launch and sell the best content possible, making it available in a variety of forms.