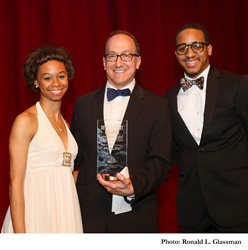 The All Stars program has a proven history of success with inner-city youth, which is quite remarkable.
New York, N.Y. (PRWEB) April 19, 2015
The All Stars Project (ASP), a national leader in afterschool development, honored MetLife for its support for All Stars innovative youth development programs at the All Stars Project national gala at Lincoln Center on Monday, April 13th. The annual event, this year themed "Development Country: America's Business Support America's Youth," raised $2 million in private funding for ASP programs across the country.
All Stars and MetLife have partnered for more than fifteen years on behalf of young people and underserved communities with a focus on financial inclusion – and always in support of the immeasurable value of personal giving back.
"MetLife employees in New York City and New Jersey, reached by All Stars early, grassroots fundraisers in the late 1990s, were among the first wave of business professionals personally investing in our programs and coming together with inner-city youth," said ASP President & CEO Gabrielle L. Kurlander. "They helped to create the new kind of bridge between very different worlds needed to transform the lives of young people and poor communities."
As All Stars has scaled across the country, employees at MetLife offices in New York, New Jersey, California, Chicago, Texas and Connecticut have engaged in leading afterschool workshops and supervising summer internships for ASP's Development School for Youth (DSY) inner-city youth leadership program. Volunteers also stepped forward to offer All Stars leadership skills, serving on the national board, regional advisory committees and as program trustees.
"The All Stars program has a proven history of success with inner-city youth, which is quite remarkable," said Dennis White, President & CEO of MetLife Foundation. "We know there is a need to reach more youth, and so we are proud to announce an additional investment of $250,000 in support of All Stars national programs and the expansion of the Development School for Youth."
MetLife Foundation's support will help All Stars to build on its successes and lead on the national stage. Overall, MetLife has invested more than $1.25 million in ASP nationally in addition to tens of thousands of employee volunteer hours.
"MetLife has been a leader of leaders in expanding this new kind of investment in the growth of young people from low-income communities," said Ms. Kurlander. "Thanks to MetLife, All Stars is positioned to move full steam ahead to take our work to the next level, improving lives and communities and engaging poverty and education failure in America."
In recognition of this support, All Stars is designating MetLife as its 2015 National Afterschool Development Partner effective immediately.
About the All Stars Project (ASP): ASP is a 34-year-old national nonprofit that transforms the lives of youth and poor communities through the developmental power of performance in partnership with caring adults. It sponsors a wide range of programs that includes hip-hop talent shows, training in theatre and the arts and programs that partner with the business community. ASP is 100% privately funded. For over three decades, tens of thousands of individual donors nationwide have given $90 million and millions of hours of personal time to share their lives, expertise, workplaces and even their homes with some of our nation's most disadvantaged young people. ASP is headquartered in New York City on West 42nd Street and has established programs in six cities – New York City, Newark, NJ, Chicago, Il, the San Francisco Bay Area, CA, Dallas and Bridgeport, CT.