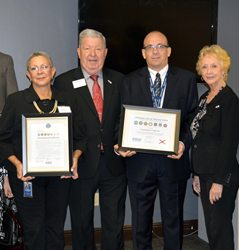 We are committed to helping Americans who serve in our Armed Forces to get ahead.
Fort Lauderdale, FL (PRWEB) April 21, 2015
Consolidated Credit received a Certificate of Distinction for continued outstanding support of the men and women who serve America in the Armed Forces to mark the organization's ongoing efforts to provide financial literacy resources to military service members, veterans and their families in South Florida.
The certificate was presented at Consolidated Credit's inaugural National Financial Literacy Month Breakfast by Peter Caspari of the Florida Department of Defense and Employer Support of the Guard and Reserve (ESGR). Hilton Sher, Vice President of Consolidated Credit also signed a Statement of Support for the Guard and Reserve, reaffirming Consolidated Credit's commitment to work with military agencies and other nonprofit organizations in order to reach military families residing in the state with the critical financial education resources they need.
"We are committed to helping Americans who serve with dedication in our Armed Forces to get ahead here at home," Hilton Sher confirmed. "Whether an individual is actively serving, on reserve, or has already transitioned to civilian life as a veteran, they face unique financial challenges that require specialized assistance, education and readily available resources for personal financial growth."
Consolidated Credit is able to provide this kind of specialized support for free to service members and veterans thanks to vital partnerships with Southern Command, as well as ESGR and Army OneSource. In addition to providing similar education programs to those available to the general public on topics such as Avoiding Money Mistakes, Consolidated Credit also provides targeted education to help service members who face special financial considerations such as income and budget adjustments following deployment and how to transition financially into civilian life.
"The members of our Armed Forces that give of themselves so freely for our liberties face unique challenges that require the right knowledge to overcome," says Peter Caspari of ESGR. "Even the joy a family experiences when Dad or Mom comes home from deployment can be tempered by financial conflicts over head of household and how to manage the family finances day to day."
Consolidated Credit offers a wide range of free financial education resources for military members and veterans in the Military Finance section of their website. The organization also offers a wide range of webinars and seminars, both for military families and the general public at large. The community outreach team is also available to provide financial education seminars and workshops for other organizations who wish to help their members gain a better understanding of specific financial topics or effective money management, in general. For more information, please call (954) 377-9176.
About Consolidated Credit: Consolidated Credit is one of the nation's largest credit counseling agencies. In over 20 years, they have helped over 5 million people overcome challenges with debt and other financial issues. Their mission is to assist families throughout the United States to end financial crises and solve money management issues through education and professional counseling. Visit ConsolidatedCredit.org for more information.