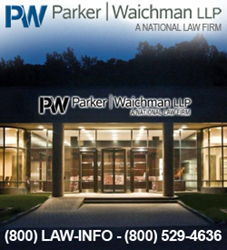 Illnesses related to the 9/11 attacks may not manifest for many years. Extending coverage of the Zadroga Act will help provide aid to rescue workers who are diagnosed with cancer and other conditions related to the attacks
Port Washington, New York (PRWEB) April 17, 2015
Parker Waichman LLP, a national law firm that has spent many years fighting to ensure that the heroes of 9/11 are never forgotten, comments on a recently posted video involving the Zadroga Act. On April 13, 2015, Citizens for the Extension of the James Zadroga Act posted a video emphasizing the importance of renewing the program, which provides medical aid and compensation to 9/11 rescue workers or survivors who became ill as a result of the attacks.
Parker Waichman notes that the firm was actively involved in working toward passage of the Zadroga Act. These actions include, in part, lobbying efforts and trips to Washington DC by Matthew J. McCauley, Senior Litigation Counsel at Parker Waichman, often, in collaboration with the firm's clients. Mr. McCauley and Parker Waichman continue to support the Zadroga Act and efforts to extend both the Act's timeline and scope. The Zadroga Act, passed in 2010, created the World Trade Center (WTC) Health Program and the September 11th Victims Compensation Fund (VCF), which are due to expire in October 2015 and October 2016, respectively.
"Illnesses related to the 9/11 attacks may not manifest for many years. Extending coverage of the Zadroga Act will help provide aid to rescue workers who are diagnosed with cancer and other conditions related to the attacks," notes Mr. McCauley. "As a firm that has continually fought for the rights of 9/11 heroes and survivors since the beginning, we understand how crucial the Zadroga Act is for first responders," Mr. McCauley added. "We support and applaud efforts to extend the Zadroga Act."
The video reveals that over 30,000 responders and survivors have been diagnosed with at least one condition related to the 9/11 attacks; many suffer from multiple injuries and exposure to hazardous substances have been tied to the deaths of at least 80 police officers and 100 firefighters. Some 3,600 cases of cancer have been diagnosed among responders and survivors and some cancer cases have yet to be diagnosed. The video's overall message urges the need to extend the Zadroga Act and provide care to 9/11 heroes. "Without this program, thousands upon thousands of people will be devastated financially, emotionally, physically, and mentally. They need the support of Congress. They gave their lives to take care of other people and they deserve to be treated as long as they live." said Dr. Ellen Koffler, Cancer Care Coordinator of the WTC Health Program.
Parker Waichman LLP comments that, exposure to the toxic dust that remained in the aftermath of the 9/11 attacks allegedly caused many rescue workers and survivors to develop respiratory illnesses, cancer, and other serious conditions. The VCF and WTC Health Program are a vital part of providing valuable assistance to our 9/11 heroes. "As a firm that has never stopped fighting for our 9/11 heroes, we understand how crucial these programs are for responders and survivors," said Mr. McCauley. "This video emphasizes that renewing the Zadroga Act is crucial for many responders and survivors, and we support this message."
If you or a loved one are eligible for compensation under the Zadroga Act, or filing a disability claim, and would like assistance with your claim or filing, please visit Parker Waichman's Zadroga Act claims page at yourlawyer.com, or call 1-800-LAW-INFO (1-800-529-4636).