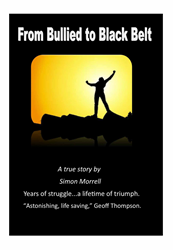 DENBIGHSHIRE, U.K. (PRWEB) April 20, 2015
Renowned martial artist Simon Morrell is spreading a message of hope to those who have or continue to suffer intimidation with his book "From Bullied to Black Belt."
"No matter how bad you may be suffering at the hands of bullies, there is hope and a positive way forward," he says. "You can take courage into your own hands and follow a path similar to mine, from bullied to black belt."
"From Bullied to Black Belt" is the true, sometimes harrowing and always emotional story of a man's arc, which ultimately became triumphant. Morrell was at the receiving end of endless bullying, which began when he was a small child and lasted as he matured into adulthood. As the attacks escalated – to the point where he was attacked with a knife – he became chronically withdrawn and felt destined to live the life of a scared, meek man, a man afraid to leave his house and not daring to expand past his small comfort zone.
However, something within him refused to accept defeat and, with the help of his wife, the mild-mannered man embarked upon a journey in Martial Arts. His original goal was to try to find confidence. It turned out that Morrell not only had the motivation, but also the talent to succeed in Martial Arts. He would become one of the U.K.'s leading Fight Masters – obtaining 6th Dan Black Belt and twice being entered into the Hall of Fame.
"From Bullied To Black Belt" – while written by a Martial Artist – is much more than a book about Martial Arts. It is a story of a man finding himself when all seemed lost. It's a love story that may break the reader's heart. It is a story that will leave you in tears, but it is a story that will eventually leave you inspired.
A film of the book is now in development with a film studio in the United Kingdom, renamed "From Bullied to Black Belt."
About Simon Morrell
Simon Morrell is one of the United Kingdom's leading Martial Artists and Inspirational Speakers, but his success was come by hard. As a young child he was badly bullied, and that evolved into violent assaults as he got older. An attempted stabbing took place by a vicious youth during a particularly frightening period, and further beatings followed. Morrell became agoraphobic and suffered from life-changing panic attacks before deciding he had endured enough. He entered the world of Martial Arts to gain confidence and quickly surprised himself and his loved ones by excelling in it. Today, he holds multiple Black Belts, including 6th Dan Karate and Dan Grade Krav Maga as well as being a two-time Hall of Fame winner. He speaks throughout the UK about his troubles and victories and his story is currently being made into the film "From Bullied to Black Belt" in the United Kingdom. He has spoken in the International Press and on the BBC about his experiences.