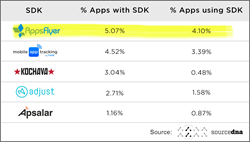 We are proud that our work has been recognized by three independent research companies.
San Francisco (PRWEB) April 17, 2015
The same way that AppsFlyer is the unbiased authority in the mobile attribution space, our SDK is being monitored by other companies in the industry that adhere to similar principles. We are pleased to share that three such companies, SourceDNA, Apptopia and MixRank, have separately identified AppsFlyer as a market leader in the mobile attribution analytics industry. Given that all the three have reached similar findings independently, is a strong signal of our level of accuracy and value as we continue to be the leading mobile advertising analytics provider.
SourceDNA monitors the usage of app SDKs and is committed to code transparency. Its app store integration automatically scans iOS & Android apps, tracking SDK market share and providing sales lead generation. It recently released a report on the most widely used SDKs in mobile applications.
AppsFlyer's SDK emerged as the leader in the mobile attribution field. 5.07% of apps have installed the SDK in their app and 4.10% are actually using it, which represents an extremely low churn rate of 19%.
These findings are consistent with a similar research done by MixRank, a company dedicated to analyzing data in the technology field to help marketers.
Apptopia gives developers a behind the scenes view of any app. Developers can look "under the hood" of any app to see what SDKs they're using. Given this technology, Apptopia can pull interesting high level data on the industry. TechCrunch recently published their findings, which identified that AppsFlyer is the most widely used analytics SDK following Flurry.
"We are proud that our work has been recognized by three independent research companies. This is an amazing and important undertaking by them all and their data projects market validation of our work. AppsFlyer continues to make strides to provide top-notch advertising analytics and customer service to our clients. We will continue to work to create new features to benefit mobile app marketers," said Oren Kaniel, AppsFlyer's CEO and Co-Founder.
About AppsFlyer
AppsFlyer is a leading mobile advertising analytics platform that enables app marketers, brands and ad agencies to optimize their marketing spend by measuring their campaigns across more than 900 integrated mobile ad networks, including on Facebook, Google and Twitter. A single real-time dashboard gives users all the tools they need to achieve the biggest return on their marketing dollars, including campaign ROI, lifetime value, retention reports, attribution analytics, cohort analysis, retargeting attribution, TV ads measurement, OneLink smart deeplinking and more. The platform currently measures more than $1 billion in annual mobile ad spend and more than 250 million mobile app installs every month. Clients include The Wall Street Journal, L'Oréal, Baidu, Samsung, Mail.Ru and Hipmunk. For more information, visit http://www.appsflyer.com.
Media Contact
Fluid PR, Inc.
Matt McAllister
(510) 229-9707
matt(at)fluidspeak(dot)com