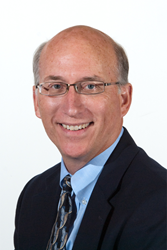 Matt's leadership and passion is highly visible, with a career that closely parallels the evolution of retail scanning
Eugene, Oregon (PRWEB) April 20, 2015
Datalogic is very pleased to announce that Matt Schler, Vice President New Technologies, received the prestigious Richard Dilling Award from AIM, the Association for Automatic Identification and Mobility. The Award is considered the AIDC industry's highest recognition for lifetime achievements that have furthered industry growth through significant applications and new technological developments. Mr. Schler joined Datalogic, then Spectra-Physics, 38 years ago and is currently responsible for leading the New Technologies Team within Datalogic Labs.
"Matt's leadership and passion is highly visible, with a career that closely parallels the evolution of retail scanning from the first bar code scanner to today's multi-sensor solutions," stated Romano Volta, CEO and Chairman at Datalogic. "He is a leader who has taken full advantage of technical knowledge and a real proximity to customers in order to create innovative solutions that meet retail industry needs, often acting as a pioneer, with courage, intellectual honesty, and undisputed leadership."
Over the last few years Mr. Schler has led organizations that have developed and refined imaging technology in order to drive front-end productivity, prevent loss, and improve customer satisfaction in retail checkout environments worldwide. His many accomplishments include the industry leading Magellan™ scanner product family (single plane, multi-plane, and the fully digital Magellan 9800i scanner) and an Automated Scanning platform (Jade™X7portal scanner).
Schler comments, "It is an honor to be recognized with this award by such a distinguished association as AIM. Over the years with Datalogic, I have had the opportunity to work with many wonderful people in this industry and thank them all for being part of my achievement."
Mr. Schler has been actively involved in the Technical Symbologies Committee (TSC) at AIM and has served on the AIM, Inc. Board of Directors for the past eight years.
Datalogic Group is a global leader in Automatic Data Capture and Industrial Automation markets. As a world-class producer of bar code readers, mobile computers, sensors, vision systems and laser marking systems, Datalogic offers innovative solutions for a full range of applications in the retail, transportation & logistics, manufacturing and healthcare industries. With products used in over a third of world's supermarkets and points of sale, airports, shipping and postal services, Datalogic is in a unique position to deliver solutions that can make life easier and more efficient for people. Datalogic S.p.A., listed on the STAR segment of the Italian Stock Exchange since 2001 as DAL.MI, is headquartered in Lippo di Calderara di Reno (Bologna). Datalogic Group as of today employs about 2,400 members of staff worldwide distributed in 30 countries. In 2014 Datalogic Group achieved revenues for 464,5 million Euro and invested over 43 million Euro in Research and Development with a portfolio of over 1,100 patents across the world. For more news and information on Datalogic, please visit http://www.datalogic.com.
Datalogic and the Datalogic logo are registered trademarks of Datalogic S.p.A. in many countries, including the U.S.A. and the E.U. Magellan and Jade are trademarks of Datalogic ADC Inc.