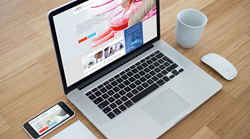 Nowadays, it is important to create and upload content strategically to highlight only the most important, eye-catching information, and tell your story within 30 seconds of attention
San Diego, CA (PRWEB) April 21, 2015
Staying true to their mission of combining strategy, creativity and technology to craft a digital product that makes the world a better place, the team at Visceral recently partnered with Global Biological Standards Institute (GBSI) to redesign their website (http://www.gbsi.org) to make it more modern, clean, and most importantly, strategy-based.
"Biomedical research is not always an easy topic to explain in person - much less to promote it in a narrative way on a website," said Michael Byrne, Director of Operations at GBSI. "However, Visceral did an outstanding job designing our site and guiding our content creation so that all visitors can relate to and understand our mission."
GBSI sought out Visceral, a San Diego-based creative agency that caters predominantly to mission-driven organizations and focuses on the power of storytelling through graphic design, to help them with the need to communicate clearly and succinctly – something that can get overlooked in the scientific and technical communities.
"When you have a company or organization with a lot of information, it is easy to want to share as much information as possible on a website, in hopes that the reader will really capture all the valuable assets of your organization," said Matthew Billingsley, Creative Director and Designer. "But that mentality is no longer relevant in this age of instant gratification. Nowadays, it is important to create and upload content strategically to highlight only the most important, eye-catching information, and tell your story within 30 seconds of attention."
Under the direction of Technical Director and Developer, Jay Buys, the project team did just that as part of their modernization overhaul. Production Director, Allegra Poggio, IA and Art Director, Allen Hopper and Billlingsley, worked with Buys and the team at GBSI to clean up the content for more strategy-focused information, and redesigned the visual components of the site for a more crisp and visually appealing look. They also made the decision to move the site from Drupal to Wordpress with Visual Composer to simplify internal maintenance tasks, allowing for constant upkeep as needed.
"Visual Composer will allow the team at GBSI to easily update their site internally and manage simple every day tweaks, keeping their site relevant and trendy without needing an overhaul anytime soon," said Poggio. This is also a more cost-effective way for a non-profit like GBSI to maintain their site.
For more information on this project and other mission-driven projects, visit Visceral's latest blog post: http://www.thisisvisceral.com/2015/04/introducing-gbsi-org-a-responsive-website-for-the-global-biological-standards-institute/.
Visceral is a San Diego-based creative agency that crafts digital products for the world's leading causes and socially conscious organizations. It was co-founded by Jay Buys and Matthew Billingsley in 2006, boasting a client list that includes USAID, the David and Lucile Packard Foundation and the San Francisco Bicycle Coalition. Full portfolio can be viewed at http://www.thisisvisceral.com.
About Global Biological Standards Institute: A non-profit organization dedicated to enhancing the quality of biomedical research by advocating best practices and standards to accelerate the translation of research breakthroughs into life-saving therapies.