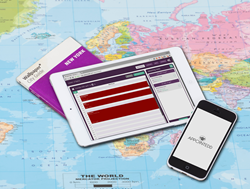 We're thrilled to have cracked the missing link in creating a truly global independent workforce by making it easier to connect wherever you are.
Las Vegas, Nevada (PRWEB) April 20, 2015
Appointedd makes working across U.S. time zones a no brainer. This Scottish startup unlocks the key to working anywhere with world's first completely customizable timezone converter.
The world's mobile economy celebrated a giant leap forward today as the launch of a new online appointment scheduling tool has removed the pain of working across US time zones and internationally. Scottish startup Appointedd is the first to crack inbuilt timezone conversion with its Zonedd timezone converter functionality.
Appointedd makes international scheduling seamless. No more timezone math, missed appointments or emails back and forth asking 'Is that 10am *your* time or *my* time?'. With Appointedd, everybody's time is their own. Booking and being booked couldn't be simpler - Appointedd users now don't have to take into account each other's international or US time zones when booking meetings and calls across continents. The online appointment scheduling tool is an inbuilt timezone converter so users can book appointments as normal.
Using Appointedd, businesses can now show their calendar availability in the timezone they are being booked from as well as being able to set discrete timezone availability on given days or weeks. And booking the appointment is streamlined - everyone can see the availability in their own timezone so there's no confusion with who's available when.
For international businesses, each team member can set their own timezone availability, meaning a distributed team can work in perfect harmony, using online appointment scheduling for calls and meetings with each other and their customers without a hiccup.
Multi-international and US time zones booking is just one of a range of features provided by Appointedd for dynamic business owners. The suite of online tools includes; online appointment scheduling diary and business management tools, CRM, a dedicated online booking microsite, booking widgets for a business's website or Facebook page, and marketing automation tools.
Appointedd's Founder and CEO, Leah Hutcheon said: "We're thrilled to have cracked the missing link in creating a truly global independent workforce by making it easier to connect wherever you are. Despite all the timezone converter tools available, time zones are notoriously hard - and why should we have to do the process of working out the timezone when making an appointment or booking a call? How we do business internationally has changed, and it's about time our technology caught up. We knew that if we could nail the experience of booking meetings and calls across time zones and make it as seamless as the rest of our booking process, we'd have a truly international product."
Appointedd customer and SEIKOURI Inc. President & CEO Markus Brinsa said of the development: "Appointedd's unique timezone functionality really helps our team to overcome the worldwide scheduling dramas. At SEIKOURI, we do calls with clients across the world, sharing our time between three New York City, San Francisco, Las Vegas, Frankfurt, and Singapore. We are naturally used to scheduling struggle. With Appointedd, our clients can book in with us and see our availability in their own timezone. This then shows in our calendars in our relevant timezone, two-way synced through Cronofy technology. Simple and effective."
Appointedd has partnered with Cronofy to sync all bookings directly into any existing calendar. Appointedd users can view and manage their bookings via a two-way synchronization across Google Calendar, iCal, Microsoft Exchange and Outlook 365.
Appointedd integrates with FreeAgent's online accounting software to ensure appointments are managed from booking through to showing in the books.
To start taking bookings across time zones using the Zonedd timezone converter try Appointedd free here: appointedd.com/zonedd
For more information, interview requests etc please contact:
Owen O'Leary - owen(at)appointedd(dot)com - (702) 472 8774 - owen.appointedd.com
Leah Hutcheon - leah(at)appointedd(dot)com - (702) 472 8774– leah.appointedd.com
Notes to Editors
Appointedd is an Edinburgh based SaaS startup founded by Leah Hutcheon. Leah won a Scottish EDGE Award of £30,000 from the Scottish Government to kickstart the business. The beginning of her startup journey was featured in BBC Scotland's The Entrepreneurs and in August 2014, Appointedd secured a £160K investment from Equity Gap alongside Apollo Informal Investment and the Scottish Investment Bank, the investment arm of Scottish Enterprise.
How does it work!?
Step 1 Open an Appointedd account with a free trial to take bookings online.
Step 2 Set your working hours according to your current and future time zones
Step 3 Create a dedicated microsite to allow people to book you and your services
Step 4 Direct people to your site and they will see your availability wherever you are in their timezone
Step 5 Travel. Take appointments. Be free and bookable.