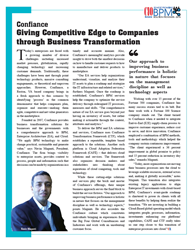 "Enterprise CIOs are demanding cutting edge BPM, EA, and Cloud solutions that enable their organizations to be more agile and efficient. We apply solutions to make change practical, sustainable and generate value."
Reston, VA (PRWEB) April 20, 2015
Confiance, a global provider of business and IT transformation solutions for enterprises and the government, today announced that CIO Review (http://www.cioreview.com) chose Confiance as a 20 Most Promising BPM Solution Provider for 2015. A distinguished panel of CIOs, CEOs, VCs and members of CIO Review's editorial board who recognize and promote technology entrepreneurship identify this annual list of companies. The decisions were based on Confiance's capabilities in business process management (BPM), enterprise architecture (EA), Cloud offerings, customer testimonials and market standing.
"Confiance is honored to be recognized by CIO Review's panel of experts and thought leaders," said Navin Maganti, President, Confiance. "Enterprise CIOs are demanding cutting edge BPM, EA, and Cloud solutions that enable their organizations to be more agile and efficient. We apply solutions to make change practical, sustainable and generate value."
To deliver the BPM and EA solutions and services, Confiance uses the Confiance Transformation Frameworksm (CTF), which establishes a repeatable, template based approach to the solutions. Another such platform is the Cloud Adoption Federation Frameworksm (CAFÉ) – that delivers cloud solutions and services. The framework also organizes decision makers and stakeholders into thinking about aspirations of cloud computing, tools and technology.
To read the complete article please visit: http://bpm.cioreview.com/vendor/2015/Confiance
About Confiance
Confiance is a global provider of business transformation solutions for commercial and government organizations. The company provides a comprehensive approach to Business and IT Transformation through Business Process Management, Enterprise Architecture and Cloud with a combination of consulting, education and managed services that allows organizations to be more efficient, agile and improve service to customers and citizens. Confiance is recognized by its Global 5000 and government agency customers as a trusted partner that helps implement change in order to achieve business results. Confiance's customers include Alcoa, Bank of America, GE Commercial Finance, Kraft, Merck, Shire Pharmaceuticals, State of New York, U.S. Army, Vodafone and Pfizer. For more information visit: http://www.confiancegroup.com & http://www.kloudkode.com.