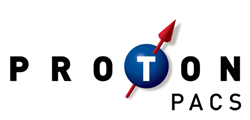 "With a great product accompanied by thoughtful support, ProtonPACS from Radsource is unbeatable."- Dr. William Bufkin of Mt. San Rafael Hospital
Nashville, TN (PRWEB) April 21, 2015
Nashville, Tenn. – Radsource, a leader in radiology clinical services and provider of Picture Archiving and Communication Systems (PACS), has expanded its PACS service area with four new installations in the first quarter of 2015.
Kentucky Breast Care (Russell Springs, KY), Pinnacle Orthopaedics (McMinnville, TN) and Lowcountry Orthopaedics & Sports Medicine (Charleston, SC) will utilize the ProtonPACS viewer and data archiving services. Mt. San Rafael Hospital (Trinidad, CO) will in addition be utilizing the speech recognition and radiologist workflow features of ProtonPACS. Since ProtonPACS is a flexible and scalable solution, the four new customers were able to tailor the system to work with their specific environments.
Dr. William J. Bufkin, Chief of Radiology with Mt. San Rafael Hospital, stated "As a radiologist, the efficiency with which I can work is of the utmost importance. ProtonPACS provides me a high quality, intuitive viewer coupled with an extremely accurate speech recognition solution, allowing me to be more efficient in my daily work while improving patient care at Mt. San Rafael Hospital."
ProtonPACS is an affordable solution, allowing imaging departments to shift implementation and hardware expenses from a capital to an operational expense while including proactive support and IT maintenance. According to Dr. Bufkin, "The support provided by Radsource, before, during and after installation is unsurpassed in the industry. With a great product accompanied by thoughtful support, ProtonPACS from Radsource is unbeatable."
About ProtonPACS
ProtonPACS by Radsource provides hospitals, imaging centers and physician practices everything needed to optimize imaging workflow and increase profitability. By combining award-winning PACS software with proactive support, speech recognition, report delivery and guaranteed secure archiving, ProtonPACS delivers a fully functional and flexible PACS solution in a cost effective fee per study model. The service is fully managed and maintained by the ProtonPACS team, greatly reducing internal IT needs, and is uniquely engineered for maximum speed and the elimination of downtime. ProtonPACS is fully regulatory compliant and seamlessly communicates with any information system.
For more information visit http://www.protonpacs.com or contact us at mcasey(at)radsource(dot)us