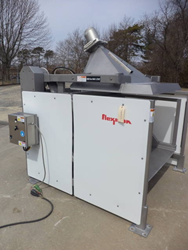 (PRWEB) April 20, 2015
Wohl Associates, a leading supplier of used machinery based in Bohemia, NY, has just announced the addition of new food packaging machinery and food processing machinery from Econocorp, Greerco, and Flexicon to their extensive inventory.
Wohl's latest acquisition is a used Econocorp horizontal cartoner, Econoseal E-System 2000. This machine erects cartons from an integral (top-mounted) magazine and seals them with hot glue. Cartons are delivered at a pre-set working height ready for filling or other use. The E-System 2000 has a single-phase electric system, and this particular model is caster-mounted allowing it to be moved around a workspace. This cartoner can deliver up to 25 cartons per minute.
Colloid mills are among the most precise and useful pieces of food processing machinery available today. Wohl has just added a used Greerco W500H colloid mill (serial # 0320-3790) to its inventory. Like all Greerco equipment, this mill is immensely durable, reliable, and adjustable. This particular model is constructed of stainless steel and horizontally mounted on casters for portability. The motor is a three-phase, sixty-cycle 230-460 V explosion-proof unit. This mill features fully controllable rotor speed thanks to its variable frequency drive.
Wohl is also currently offering a Flexicon "Tip-Tite" box dumper that is apparently unused. Flexicon's box dumpers are designed for sanitary and spill-free dumping, with dust-tight seals to minimize waste. This heavy-duty hydraulically-powered dumper/tipper has a 2,500 pound capacity and a two-horsepower motor. Construction is stainless steel throughout, including the starter box, with all features intended to prevent the contamination of food products. This model can lift a box or tote to a position sixty degrees beyond the horizontal plane. A complimentary flexible screw conveyor is also available at additional cost.
Wohl has accumulated a great track record in buying and selling quality used equipment for a variety of industrial clients in the pharmaceutical, cosmetics, and food industries. With more than four decades of experience, Wohl's experts can identify and fulfill the needs of virtually any customer. From food packaging machinery to pharmaceutical tablet presses, Wohl buys, stocks, and sells only the best.
About Wohl Associates
Wohl Associates is a leading dealer in the used processing and packaging machinery industry. With a history and solid reputation spanning over 40 years, they have earned the trust of their clients by offering quality pre-owned equipment, expert customer service and invaluable knowledge to their customers. They treat each customer on an individual basis and customers are provided the highest level of service. With a large inventory including cartoners, ribbon blenders, stainless steel tanks, unscrambling tables, colloid mills and vitamin manufacturing equipment.
Wohl Associates has the pre-owned machinery to fit any production line. To view their inventory and learn more, visit them at http://www.wohlassociates.com/.