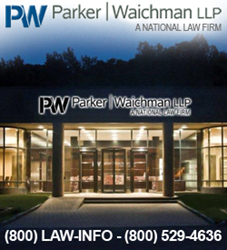 The Act was passed in 2010, but was cut from its original 10-year-$7.4 billion package to a significantly smaller 5 years and $4.2 billion. If no steps are taken to extend the Act, the benefits will expire at the end of 2016
Port Washington, New York (PRWEB) April 20, 2015
Parker Waichman LLP, a national personal injury law firm that has spent many years fighting to ensure that the heroes of 9/11 are never forgotten, applauds the efforts of lawmakers taking action to extend the James Zadroga 9/11 Health and Compensation Act. SIlive.com reports that, on April 14, 2015, Senator Kirsten Gillibrand (Democrat-New York) led a press conference in Washington, DC stressing the importance of renewing the Zadroga Act. Senator Gillibrand was joined by a number of Democratic and Republican New York Senators as well as labor leaders and first responder advocates.
"We applaud and support efforts to renew the Zadroga Act," said Matthew J. McCauley, Senior Litigation Counsel at Parker Waichman LLP. "As a firm that has been fighting for the rights of 9/11 heroes from the very beginning, we understand how vital continuation of these programs is to rescue workers, responders, and survivors."
Senator Gillibrand pointed out that the programs in the Zadroga Act involve people from 429 of 435 congressional districts, noting that 9/11-related injuries affect not only individuals in New York, but across the nation, according to the SILive.com report. Senator Gillibrand also noted that it is crucial to keep supporting those who were "willing to risk their lives in a dangerous place when our nation needed them the most."
Locally, every New York and Connecticut Congressional member, as well as most of New Jersey's 12 members, are fighting for an extension of the Act, according to Parker Waichman; however, the support must extend nationwide. "We are hoping that by getting the word out regarding the work being done to reauthorize the Act, more and more voters will become aware that the critical benefits the Act provides are winding down. Meanwhile, serious, life-altering injuries related to the attacks continue to be diagnosed and reported," Mr. McCauley added. "American voters must demand that their candidates continue to provide assistance to our American heroes who risked their lives at Ground Zero."
The Act is named for New York Police Department Detective James Zadroga. Detective Zadroga died following deadly lung scarring suffered after having breathed in the toxic air that was part of the dust cloud that hovered over the World Trade Center site in Manhattan following the terrorist attacks, notes Parker Waichman. Since, a growing number of responders and survivors have been diagnosed with an array of illnesses attributed to the toxins that were released in the wake of the terrorist attacks. "The Act is intended to ensure that these individuals are continually covered for 9/11-related illnesses," said Mr. McCauley. "Allowing these benefits to expire will mean that these heroes and survivors may not receive the care they need because they are unable to pay for these benefits."
Survivors, notes Parker Waichman, include not just the heroes and rescue workers involved in rescue and recovery work, but the families—including children—who live in the area of the attacks or were at school or work when the attacks occurred..
"The Act was passed in 2010, but was cut from its original 10-year-$7.4 billion package to a significantly smaller 5 years and $4.2 billion. If no steps are taken to extend the Act, the benefits will expire at the end of 2016," Mr. McCauley warns.
The James L. Zadroga Act 9/11 Health and Compensation Act is essential for many 9/11 first responders and survivors who were injured or became ill as a result of the attacks, according to Parker Waichman, especially given that many 9/11-related illnesses may take years to manifest. The two programs established under the Act—The World Trade Center (WTC) Health Program and the 9/11 Victims Compensation Fund (VCF)—are due to expire in October 2015 and October 2016, respectively. "With Congress proposing an extension of the Act, those who valiantly fought on 9/11 and those who survived the attacks will be ensured of continuous coverage, as well as coverage for diseases that have yet to manifest," Mr. McCauley said. What's more, reauthorization of the Act will continue inclusion of a 10 percent matching program with the City of New York for the cost share of the WTC Health Program. Reauthorization also ensures continuing research on conditions related to the WTC attacks and broadening support for the WTC Health Registry, Parker Waichman points out. "If reauthorization of the Act does not occur, all of these critically important benefits disappear," Mr. McCauley pointed out. "What will happen to those heroes? Survivors? Families?"
Injuries or illnesses related to the September 11th terrorist attacks affect 33,000 responders and survivors; two-thirds of these individuals suffer from more than one coverable condition and 3,900 cases of cancer have been diagnosed among responders and survivors, according to Parker Waichman.
Parker Waichman notes that the firm was actively involved in working toward passage of the Zadroga Act, including lobbying efforts and trips to Washington DC that were led by Mr. McCauley and were often conducted along with the firm's clients. Mr. McCauley and Parker Waichman continue to support the Zadroga Act and all efforts to extend its timeline and its scope.
Parker Waichman LLP, which worked, and continues to fight, alongside Ground Zero first responders, survivors, and their advocates, to help ensure passage of the Zadroga Act and its amendments, vows to continue its efforts to safeguard these heroes and ensure that they receive all of the Zadroga Act compensation they deserve. If you or a loved one are eligible for compensation under the Zadroga Act, and would like assistance with your claim, please visit Parker Waichman's Zadroga Act claims page at yourlawyer.com, or call 1-800-LAW-INFO (1-800-529-4636).