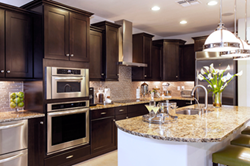 DIY your home project, make "Doing" so much more Fun & Affordable
Los Angeles, CA (PRWEB) April 18, 2015
CabinetDIY introduce new European Style RTA cabinets at great prices. The new European Style Ready To Assemble Cabinets line including variety of different colors and styles. They have sleek flat panel door and soft-closing hardware in all drawer and door panels. When traditional kitchen cabinets are often exclusively wood, modern kitchen cabinets may feature with mix materials. It may combine materials such as wood, colorful laminate materials, glass and even metal for a more industrial feel.
Many people are looking for a change when it comes to their property. The new modern and sleek style is getting popular in the home renovation trend. With recent the rising prices of real estate and tough mortgage application approval. Property experts have said it is much more economical to modernize a home instead of moving to a new property. However, modernizing a home has always required builders and handymen, but now, homeowners can modernize their bathrooms and kitchens without expert help thanks to RTA (Ready To Assemble) Cabinets and CabinetDIY.
The New European Modern RTA Cabinets come with free samples, nationwide Door to Door delivery. The huge selection of styles, colors and sizes ensures that the customers will find perfectly matched Ready To Assemble cabinets that will help them modernize their home at affordable prices. CabinetDIY provides an easier and much cheaper option to modernize parts of their home by replacing their old kitchen and bathroom furniture with brand new high-quality Modern RTA cabinets that will completely change the look of their home.
The company Modern RTA Kitchen Cabinets included, European Teak cabinets, European White cabinets, Rudy Red Modern cabinets, Siler Grey Modern cabinets, Modern and ECO Friendly Bamboo shaker cabinets and many more.
CabinetDIY provide Design consultant to DIY homeowners. Homeowners can simply measure their kitchen and bathroom and choose the kitchen cabinet style they like the most, than contact the company's interior designer and help their kitchen design. The experienced kitchen & Bath designer may direct them to the best choice. Customers can choose between fully assembled and Ready To Assembled packages. The un-assembled units are offered with a 20% discount. These RTA cabinets ensure that home modernization has never been so effective and easy.
For more information on all the opportunities for home modernization, provided by Cabinet DIY, please visit http://www.cabinetdiy.com/.
About CabinetDIY
CabinetDIY is established in 2004 to provide professional interior design services and products throughout North America and beyond. The company's team takes each customer's need, complaint or suggestion seriously, constantly improving their services and products to meet the demands for quality, uniqueness and diversity of the today's generation.