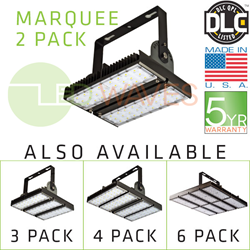 The Marquee line offers up to 114 lumens per Watt, plus a 5 year warranty, to deliver significant savings on energy and maintenance.
(PRWEB) April 19, 2015
LED Waves is proud to introduce the Marquee™ Outdoor LED Flood Light to their exclusive line of industrial lighting products made in the USA. Built to order in two-pack, three-pack, four-pack, and six-pack models – each on the DesignLights Consortium Qualified Products List – the Marquee is designed to replace any HID luminaire used in indoor/outdoor settings.
The versatility of the Marquee Outdoor LED Flood Light comes from its straightforward, no-frills form. Two, three, four or six IP65 rated LED boards (or packs) are mounted directly to a waterproof power supply, which is integrated in a sturdy passive cooling heat sink. The attached bracket arm swivels up to 316 degrees, enabling installation at virtually any angle.
Each pack in the Marquee is populated with 24 high-power Philips LUXEON LEDs to deliver a wide flood of bright, consistent light. With a third-party LM-79 tested Color Rendering Index of 70 (compared to HID average 30 out of 100) and a Correlated Color Temperature of 5000K to 5700K, the Marquee improves nighttime safety and visibility with its daylight-mimicking quality of light.
The Marquee offers brightness ranging from 5,734 lumens (two-pack/93 Watt model) to 20,170 lumens (six-pack/114 Watt model), making it suited for warehouses, parking lots, stadiums, service stations, loading docks, and other high traffic areas that are fully or partially exposed to the elements. The Marquee line offers efficacy up to 114 lumens per Watt, plus an operating life of 50,000 hours (backed by LED Waves' 5 year warranty) to deliver significant savings on energy and maintenance.
The Marquee Outdoor LED Flood Light is made in the USA and qualified by the DesignLights Consortium, further shortening payback periods for large commercial and industrial projects through rebates. Factory-direct pricing by quantity, as well as detailed photometric data for each unit, is available to ESCO representatives and other professional lighting specifiers by calling LED Waves at 1(800)986-0169.