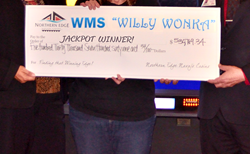 Derrick Watchman, CEO of the Navajo Nation Gaming Enterprise said, "We congratulate our Northern Edge player on this historic win and are delighted that these significant winnings are going to a local who has supported our property."
Farmington, NM (PRWEB) April 21, 2015
Northern Edge Casino, near Farmington, N.M. announced today that a local player hit a big jackpot on a WMS wide-area progressive game on April 6. The lucky Farmington-area resident won a $530,769.34 jackpot on a WMS Willy Wonka slot machine.
Dean Ehrlich, Senior Vice President of Global Gaming Operations, Scientific Games, said, "Congratulations to the winner of this extraordinary jackpot! We are thrilled to share this exciting event with Northern Edge Casino."
The win represents the largest jackpot at Northern Edge Casino and one of the largest from any of Navajo Gaming's four properties the past six years.
Derrick Watchman, CEO of the Navajo Nation Gaming Enterprise said, "We congratulate our Northern Edge player on this historic win and are delighted that these significant winnings are going to a local who has supported our property."
To learn more about Northern Edge Casino visit http://www.NorthernEdgeCasino.com
Unless otherwise noted, trademarks are owned by, or under license to or from, Scientific Games Corporation, or one or more of its directly or indirectly wholly owned companies, in the United States or elsewhere. © 2015 Scientific Games Corporation. All Rights Reserved.
About Navajo Gaming:
Navajo Gaming (The Navajo Nation Gaming Enterprise) is a Navajo Nation wholly-owned business entity created by the Navajo Nation in September 2006. NNGE is authorized by the Navajo Nation to develop and operate Navajo casinos in accordance with federal and Navajo Nation laws, as well as the negotiated Navajo Nation-applicable state compacts (New Mexico and Arizona).
Navajo Gaming opened its first Navajo Casino on November 19, 2008 – Fire Rock Navajo Casino in Church Rock Chapter, near Gallup, New Mexico. The second Navajo Casino opened October 13, 2010 – Flowing Water Navajo Casino in Tsé Daak'áán Chapter, near Shiprock, New Mexico. The third Navajo Casino opened January 16, 2012 – Northern Edge Navajo Casino – in Upper Fruitland Chapter, near Farmington, New Mexico. The fourth Navajo Casino – Twin Arrows Navajo Casino Resort – is located in Leupp Chapter, near Flagstaff, Arizona. Currently, Navajo Gaming has 1,400 employees.
Navajo Gaming's vision includes job growth opportunities for Navajos, to continue returning revenue to the Navajo Nation and continue building the Navajo gaming and hospitality brand.
About Scientific Games
Scientific Games Corporation (NASDAQ: SGMS) is a leading developer of technology-based products and services and associated content for worldwide gaming, lottery and interactive markets. The Company's portfolio includes gaming machines, game content and systems; table games products and utilities; instant and draw-based lottery games; server-based lottery and gaming systems; sports betting technology; loyalty and rewards programs; and interactive content and services. For more information, please visit http://www.scientificgames.com.