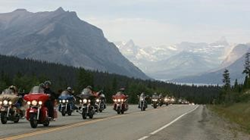 "Riding across our beautiful country on two wheels with great friends and family is incredible, but knowing you're doing it to help others makes it the ride of a lifetime." - Richard Petty
Chicago, Illinois (PRWEB) April 20, 2015
Buzzfire, Inc., "Buzzfire," announced today that its President and CEO, Randy Zahora, will be riding on the 21st Kyle Petty Charity Ride. Mr. Zahora said, "This will be my 16th year I have participated on the charitable ride. The annual ride raises funds and awareness for Victory Junction, a camp created by the Petty family to enrich the lives of children with chronic or life-threatening illnesses, and I am blessed to participate again this year."
The route for the 21st anniversary Kyle Petty Charity Ride has been announced. The yearly motorcycle ride benefiting Victory Junction will take place May 2-8, 2015, and take 200 riders from Santa Cruz, California, to Branson, Missouri.
After kicking off in Santa Cruz, the 2,500-mile route will make stops in Bakersfield, California; Tonopah, Nevada; Bryce Canyon, Utah; Moab, Utah; Colorado Springs, Colorado; and Hutchinson, Kansas before ending in Branson. Mr. Zahora will then ride from Branson, MO to his home in the western suburbs of Chicago logging over 3,500 miles in his eight day journey.
"Each year, we select a route that's full of breathtaking scenery, while also allowing us to spread the word and build excitement around our mission along the way," said Kyle Petty. "Year after year, the Ride creates lasting memories for our riders, most importantly, it provides life-changing opportunities for children at Victory Junction."
The ride has allowed 7,815 children to attend Victory Junction free of charge.
This year's riders include NASCAR Hall of Fame driver Richard Petty, Joe Gibbs Racing's Matt Kenseth, former drivers Harry Gant and Donnie Allison, former NFL player Herschel Walker, Harley-Davidson, Inc. president and chief executive officer Matt Levatich, and NASCAR personalities Rick Allen and Rutledge Wood.
"When Kyle started this Ride 21 years ago, I don't think any of us realized just how special it would become," said Richard Petty. "Riding across our beautiful country on two wheels with great friends and family is incredible, but knowing you're doing it to help others makes it the ride of a lifetime."
You can follow Mr. Zahora on Facebook and Twitter providing daily commentary and pictures of the seven day motorcycle trek. You can follow his posts on Facebook at http://www.facebook.com/BuzzfireInc, on Twitter at @Buzzfire, and on Instagram at buzzfireinc. For a preview of what the ride is all about, go to this video: https://www.youtube.com/watch?v=xSbtoIBSr2Q.
About Buzzfire, Inc
Buzzfire is a national leader in video conferencing, audio visual, and digital signage solutions. Buzzfire provides sales, installation and support of these technologies throughout the United States and Canada. Founded in 2006, has successfully completed thousands of video conferencing, room systems, and digital signage solutions in North America. For more information, please visit http://www.buzzfire.com .
About the Kyle Petty Charity Ride Across America (KPCRAA)
Led by former NASCAR driver and racing analyst Kyle Petty, the KPCRAA is an annual cross-country motorcycle trek that raises funds and awareness for Victory Junction. The KPCRAA is one of the most successful and popular charity events in the country. Now in its 21st year, more than 7,500 riders have logged 11.1 million cumulative motorcycle miles and raised more than $16 million for Victory Junction and other children's charities.
About Victory Junction
Victory Junction is a year-round camping environment for children, ages six to 16, with chronic medical conditions or serious illnesses. Co-founded by Kyle Petty family, in honor of his, son Adam Petty, the camp is located in Randleman, N.C. Victory Junction exists to provide life-changing camping experiences that are exciting, fun and empowering, in a safe and medically-sound environment, always free of charge. As a not-for-profit organization, the camp operates solely through the support of generous individuals, foundations, organizations and corporations to provide this experience at no charge to children and their families. Since the camp's inception, more than 21,500 children and families have received not only a circle of support but experiences thought to only be possible by healthy children. Victory Junction is a member of the SeriousFun Children's Network of Camps founded by Paul Newman, and is accredited by the rigorous guidelines of the American Camping Association. To learn more, please visit victoryjunction.org.