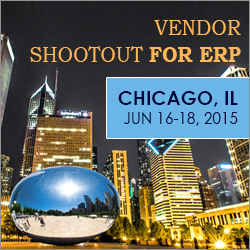 "The ERP Vendor Shootout gave us an opportunity to objectively compare vendors without any sales pressure and helped us shorten our evaluation time considerably." - Operations Manager from the transportation sector
Montreal, Quebec (PRWEB) April 20, 2015
Technology Evaluation Centers (TEC) will once again be moderating the highly popular Vendor Shootout™ for ERP event, this time in Chicago on June 16-18, 2015.
The Vendor Shootout™ for ERP is the first and longest-operating event in North America focused on simplifying enterprise resource planning (ERP) software evaluation and selection. Tailored to ERP selection teams and decision makers for manufacturing and distribution companies, this one-of-a-kind event is ideal for businesses that are actively seeking, passively researching, or just plain window-shopping for ERP software.
The event has helped hundreds of organizations with their ERP software selections, as it allows attendees to see the best ERP systems for manufacturing and distribution in action and talk one-on-one with the top ERP software providers—all under one roof. The three-day event also gives attendees the opportunity to get an expert perspective from the independent software selection experts at TEC.
As the event moderator, TEC can offer attendees tips for success founded in its proven and industry-leading ERP software selection methodology and state-of-the-art web-based decision support technology. Attendees can rely on TEC's expert perspective to equip them with the knowledge essential to manage their own selection project, or receive personalized guidance to get them through crucial project milestones.
Over 5 years and twenty-two events across the United States, hundreds of manufacturers and distributors have taken part in the Vendor Shootout™ experience. Live, scripted product demonstrations from top ERP software vendors together with insightful sessions on ERP software selection allow attendees to accomplish what would normally take months of work in one event. It also provides networking opportunities for attendees to share their ERP-related goals, concerns, and success stories.
For additional information or to register for the 23rd Vendor Shootout™ for ERP on June 16-18, 2015, in Chicago, Illinois, visit http://www.erpshootout.com or call 1-877-907-2702.
And for more information about TEC's software selection services, contact +1 514-954-3665, extension 404, or e-mail selectionservices(at)technologyevaluation(dot)com.
About Vendor Shootout™ for ERP
Created in 2007 by brij Image and Information, the Vendor Shootout™ for ERP has helped to simplify software selection for hundreds of companies throughout the US and abroad. Brij's goal was to create an event where qualified manufacturing and distribution organizations could come and witness multiple ERP packages in action, without sales pressure. What started as a unique concept has grown into an international brand that continues to change the way manufacturing and distribution organizations approach their software selection projects.
About Technology Evaluation Centers (TEC)
Technology Evaluation Centers (TEC) is the world's leading provider of software selection resources, services, and research materials, helping organizations evaluate and select the best enterprise software for their needs. With its advanced decision-making process and software selection experts, TEC reduces the time, cost, and risk associated with enterprise software selection.
Over 3.5 million subscribers leverage TEC's extensive research and detailed information on more than 1,000 leading software solutions across all major application areas. TEC is recognized as an industry-leading software selection advisory firm offering resources and services both online and onsite. For more information, please visit http://www.technologyevaluation.com.