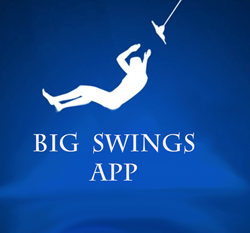 "Nothing beats the rush of discovering a new rope swing, cliff or swimming hole. It's like finding a hidden treasure. We want to bring that feeling to everyone, everywhere." said Marc Kelly, Big Swings founder.
Mt. Ephraim NJ (PRWEB) April 28, 2015
A community of outdoor explorers is pleased to announce the launch of its new app, titled Big Swings. A world-wide directory of sites for cliff jumping, rope swings, and swimming holes. The interactive app invites users to grow the community by marking their favorite locations on the Big Swings World Map, building the already lustrous aggregate even further. Once a location is marked, users can: review and discuss, share pictures, rate, and get exact GPS directions. The app is live in the Apple App Store now, coming to Android very soon. The summer will never be the same.
Big Swings was started to make the task of finding swimming holes easy. CEO, Marc Kelly, spent his childhood in the woods, enjoying the beauty provided to him from nature. If there is one thing he knows; it's that finding the best spots is no easy task. Thus, the creation of Big Swings.
Big Swings wants to share the beauties of the world. No need to get on an airplane either. Big Swings, shows you the closest spots to your exact location. We made this App so users can share their favorite swimming holes and jumping spots with the rest of the world. Making it easy and free The way it's meant to be.