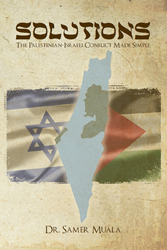 By living on both sides of the globe, I believe I understand the beliefs of most Palestinians and Arabs in the region. - Dr. Samer Muala
(PRWEB) April 27, 2015
Terrorism has become an international threat, as radical Islamic groups clinging to the misguided teachings of one of the most peaceful religions, try to create rifts among mankind, in the view of author Samer Muala.
The Palestinian-Israeli conflict is at the center of today's political turmoil, allowing radical Islamists to recruit young men into its organizations. The West, in return, falls into a trap by waging wars and using a flagrant double standard in its relationship with Israel, according to the author.
This book explores the many mistakes the author believes both sides make, by following strict policies and forgetting the needs of humanity to coexist. It starts out by dispelling some myths propagated today that are simply not true. It proves that the Palestinian question is not a religious but a land issue, and offers solutions to the present Middle East conflict.
"Solutions: The Palestinian-Israeli Conflict Made Simple" concludes with a poetic journey into the future, issuing a personal outcry to end the conflict.
Says the author, "By living on both sides of the globe, I believe I understand the beliefs of most Palestinians and Arabs in the region. I am responding to the calls of many in the West asking for Palestinians and Arabs to speak up and denounce terrorism in all its shapes and forms. I wholeheartedly feel the majority of Arabs want a lasting and comprehensive peace based on trust and mutual respect. It is time that the humiliation and iron-clad fist of occupation end, so that those who seek to destroy the common bonds of humanity can drift away into forgetfulness."
Watch the video at: https://youtu.be/IO2OeEZqIw0
SOLUTIONS: THE PALESTINIAN-ISRAELI CONFLICT MADE SIMPLE (ISBN: 978-14823-965-9-1) is now available for $9.95 and can be ordered through the publisher CreateSpace Independent Publishing Platform or at Amazon.com and Barnesandnoble.com.
About the Author: Dr. Samer Muala is a Palestinian-American physician currently practicing in the United States. He earned his undergraduate degree from the American University of Beirut in Lebanon, and then obtained his master's degree and his medical education at Wayne State University in Detroit. Seeking to make a difference in primary care, Dr. Muala was residency trained in family medicine at Natividad Medical Center in Salinas, California, and is now an active Diplomate in the American Board of Family Medicine. Originally from the Jerusalem suburb of Lifta, his interest in Middle East affairs began at a young age. Dr. Muala dreams of a just, lasting, and comprehensive peace in the Middle East that will end the suffering of all the peoples in the region. He currently resides in California.
WHOLESALERS: This book is distributed by Ingram Books and other wholesale distributors. Contact your representative with the ISBN for purchase. Wholesale purchase for retailers, universities, libraries, and other organizations is also available through the publisher; please email bookorder@sbpra.net.