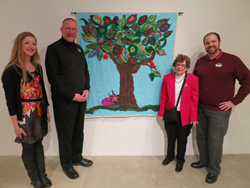 "We have seen healing, a lot of healing, and a lot of acceptance of the past and present," said Chaplain Shawn Kafader of Friendship Village.
(PRWEB) April 17, 2015
"We have seen healing, a lot of healing, and a lot of acceptance of the past and present," said Chaplain Shawn Kafader of Friendship Village. "People have found purpose. People who hadn't felt like they had anything to contribute have created beautiful pieces of art." For the past eight months, Kafader has overseen a new art therapy program that was launched to benefit residents of the retirement community.
Kylin Jewell, a Masters student from School of the Art Institute in Chicago, worked as an intern at Friendship Village, introducing art therapy to the residents. She worked with a variety of residents, both individually and in groups. "Kylin worked with our Living with a Loss Group, comprised of residents dealing with the loss of a loved one, or a loss of an ability or mobility," said Kafader. She also worked with residents with dementia, and residents whose health is changing.
"Although they might learn a skill in art therapy, that's not the purpose," said Kafader. "It has to do with the process. The art becomes the healing vehicle for the person's life…a way for people to express and come in touch with some of their feelings that are hard to convey in words."
Kafader said that art therapy sessions are run in several different ways. Kylin works with a group of residents in a designated art room, while other times, she works individually with residents in their apartments. "Sometimes the resident will talk while creating, sometimes they'll be silent while creating and then will talk about it afterwards" he said. "Sometimes the resident will tell their story, and sometimes the art piece tells the story itself. "
As beautiful and compelling pieces of artwork began to emerge, the decision was made to hold an art show, exhibiting a sample of the creations. The idea evolved into an intergenerational art exhibit called The Art of Friendship which will be held on Tuesday, April 21st. "We began our idea with an art show by the therapy program but then other things started happening," said Kafader. Friendship Village has a long-standing collaborative relationship with neighboring Hoover Math and Science Academy in Schaumburg. "This year we had a group of residents who partnered with Hoover's photography club. Part of our art show will feature this collaboration. We then opened it up to students in the 4th and 6th grades to display some of their work as well."
The decision was then made to invite all artistic residents at Friendship Village to contribute a piece to the show. "We had a great response from our residents. We'll have a wonderful variety of pieces including sculpture, photography and paintings," Kafader said.
Kafader is hoping that art therapy is a constant offering at Friendship Village. "I think it's cutting edge right now, and we've been able to put together a quality program brining together the different pieces that benefit our residents and their families," said Kafader.
Friendship Village is a leading Chicago-area retirement community offering a complete continuum of care including independent living garden homes and apartment homes, as well as assisted living, memory support, skilled care, and short- and long-term rehabilitation services. For more than 35 years, Friendship Village has been providing Chicago area seniors with exceptional retirement living options. For additional information visit http://www.FriendshipVillage.org