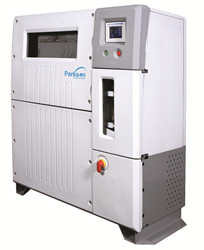 Fort Lauderdale, FL (PRWEB) April 20, 2015
Parkson will be exhibiting their award-winning MaximOS™ line of on-site disinfection generators at ACE15, the American Water Works Association's annual conference and exposition, June 8-10.
Parson's MaximOS™ on-site generators, which will be on display in Booth 1971, are available with a self-cleaning electrolytic cell, self-adjusting flow control, and remote monitoring. Generating from two to 1,800 pounds per day of free available chlorine (FAC), MaximOS™ generators offer the flexibility to upgrade from sodium hypochlorite to mixed oxidant generation. An alternative to sodium hypochlorite, mixed oxidant solution demonstrates additional benefits including enhanced chlorine residual, biofilm removal, coagulant optimization, disinfection byproduct reduction, and taste and odor improvement.
On-site generation safely and economically generates sodium hypochlorite or mixed oxidant solution from salt, water and power at the plant, preventing the need to purchase, transport and store hazardous chemicals. On-site generation cuts back transportation requirements by up to 80%, reduces carbon emissions and fuel consumption, and eliminates the storage and disposal of chemical containers.
ACE15, which will be co-hosted with the AWWA California/Nevada Section, will be held June 7 – 10, 2015 in Anaheim, Calif., with the exposition floor open June 8-10. AWWA is the world's largest water utility organization, and ACE15 is expected to draw more than 12,000 global water professionals to address major water sector issues.
About Parkson
Parkson is a supplier of equipment and solutions for potable water, process water, and industrial and municipal wastewater applications. Parkson designs, engineers and assembles the products it sells into the municipal wastewater and industrial wastewater segments. The company was founded in 1960 and has been owned by Axel Johnson Inc. since 1967. http://www.parkson.com
About AWWA
Established in 1881, the American Water Works Association is the largest nonprofit, scientific and educational association dedicated to managing and treating water, the world's most important resource. With approximately 50,000 members, AWWA provides solutions to improve public health, protect the environment, strengthen the economy and enhance our quality of life. http://www.awwa.org