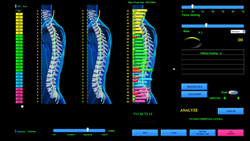 Our goal is to expand the availability and effective use of the PulStar technology to enable more patients to benefit from the rapid pain relief provided by experienced clinicians using the PulStar system.
Export, PA (PRWEB) April 20, 2015
Chiropractors and physical therapists can now download the Level II manual for the PulStar musculoskeletal instrument to obtain the latest protocols for the assessment and treatment of their patients' spinal issues.
Sense Technology Inc., the company that created PulStar musculoskeletal instruments to make chiropractic and physical therapist visits more effective and accurate, has announced the release of a new instructor's manual and clinical protocols for its musculoskeletal instrument. This is the first time treatment protocols have been available for free download to chiropractors and physical therapists without attending a seminar.
Sense Technology Inc. produces instruments for chiropractors and physical therapists to assess patient spinal structure issues, including those involving muscles, ligaments and joint function. Their instruments assist practitioners in the assessment of current spinal issues, analyze the results and even have adjustment/mobilization capabilities. The PulStar instruments have helped patient spinal issues and back problems across the country and around the world.
The new manual describes the theory of operation of the instrument, as well as the clinical protocols taught by PulStar experts. It also goes into detail on how to begin a clinical assessment using the PulStar instrument, apply PulStar Multiple Impulse Therapy (MIT), and perform a post assessment to determine the effectiveness of the therapy conducted.
"Sense Technology is pleased to make the Instructor Manuals for the PulStar available at no charge to the professionals that utilize this advanced and innovative technology, which has been shown to provide patients suffering from common musculoskeletal pain including back and neck pain, as well as many types of headache, fast and effective relief," explains Dr. Joe Evans, CEO of Sense Technology, Inc.
The manuals will be released in stages. Level I and Level II are currently available, while Levels III and IV will be released over the next six months. The new clinical protocols included in the manual have been developed using the expertise of thousands of clinicians based on over thirty years of use of the PulStar in clinical practice.
As Evans explains, "Our goal is to expand the availability and effective use of the PulStar technology to enable more patients to benefit from the rapid pain relief provided by experienced clinicians using the PulStar system."