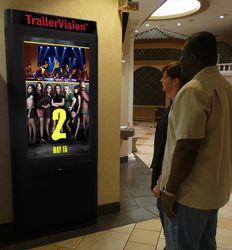 We are looking forward to celebrating 10 years of success and growth with our valued exhibition partners at CinemaCon.
OVERLAND PARK, KS (PRWEB) April 17, 2015
Cinema Scene Marketing announced today the signing of long-term agreements with over 35 key Exhibitors, guaranteeing their participation in Cinema Scene's Digital Media Network for years to come. Theatre chains such as Carmike Cinemas, Marcus Theatres, Pacific Theatres, Celebration! Cinemas, Your Neighborhood Theatres and Phoenix Theatres have extended agreements providing Cinema Scene with media access in their theatre lobbies. Specific terms were not disclosed.
Launched in 2007, the Cinema Scene TrailerVision network encompasses over 260 theatres and 3,200 auditorium screens at prominent theatre locations across the country. These theatre locations are heavily focused in top DMAs. Additional network participants include: Bow Tie Cinemas, Cinemark Theatres, National Amusements, Paragon Entertainment, Wehrenberg Theatres, Malco Theatres and Regency Theatres.
Cinema Scene also announced the success of its Digital Poster Initiative (DPI) pilot, and subsequent plans for a Phase 2 launch at additional theatre locations. The DPI pilot at the Carmike Thousand Oaks 14 (Thousand Oaks, CA) began in December of 2014. The DPI solution retrofits traditional movie poster cases into dynamic digital screens, allowing the display of fully animated posters and content. The initiative is quickly gaining attention and participation from Exhibitors and Studio alike.
"Cinema Scene is committed to constant innovation and R&D of revolutionary digital media solutions," said Joe Ross, Managing Principal, Cinema Scene Marketing. "This commitment culminates in a growing revenue share offering for our clients. We are looking forward to celebrating 10 years of success and growth with our valued exhibition partners at CinemaCon."
CinemaCon attendees can see the Cinema Scene Digital Media Network in action at booth 831F.
About Cinema Scene Marketing (http://www.cinemascenemarketing.com)
Cinema Scene Marketing, headquartered in Overland Park, Kan., delivers promotional marketing and merchandising solutions to cinema clients via concessions packaging, digital signage and marketing services. Cinema Scene's industry leading solutions can be found in most of the top cinema circuits in North America.
Cinema Scene Media, a division of Cinema Scene Marketing, leverages digital media and promotional products to reach over 300 million cinemagoers annually. TrailerVision™ digital lobby displays reach highly desirable and captive movie going consumers. The CS PROMO Network literally places your brand 'in the hands' of consumers via promotional packaging and premiums.