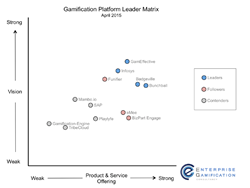 As gamification moves from a novelty to a mainstream technology, and shifts from a customer to an employee engagement program, organizations need to consider gamification strategies that go beyond an isolated use of gamification in areas such as eLearning.
Charlotte, North Carolina, and San Jose, California (PRWEB) April 28, 2015
The Enterprise Gamification Consultancy released the first ever enterprise gamification platform industry report, covering twelve platform providers and commenting on the state of the gamification market. According to the report, the gamification industry in 2015 is still at a very early stage, but is starting to mature.
Enterprise Gamification Consultancy predicts the gamification industry market to double within the next 12 months. It also comments that the entrance of new players, such as SAP, as gamification platform providers signals a new phase in the market's development. "The entrance of such a dominant software vendor into the gamification market is a signal to corporate clients that gamification technologies are now moving from obscurity and novelty to the mainstream," said Mario Herger, the founder of Enterprise Gamification Consultancy. "That's why we foresee that other large software vendors will enter the market within the next 12 to 18 months."
The Enterprise Gamification Consultancy recommends that executives add gamification as a strategic component to their employee engagement, productivity, and performance processes. Additionally, the report noted that the choice of enterprise gamification platform only accounts for a portion of a successful gamification implementation strategy, with the rest accounted for by training, objective definition, game design and the ability to create infinite games that will be sustainable over the longer run.
"Big data that is generated through gamification activities will enable corporations to move Human Resource, but also other processes to more data based processes," said Herger.
The report, targeted at organizations considering implementing an organization-wide gamification strategy, also contains a gamification platform leadership matrix.
Out of the vendors reviewed in the report, four are considered to be gamification leaders, with the smallest of them–GamEffective–being the surprising overall leader, followed by Bunchball, Badgeville and Infosys.
A link to the report can be found here, and a link to the platform leaders matrix is here.
About Enterprise Gamification Consultancy
Enterprise Gamification Consultancy LLC is the first gamification consultancy for businesses. We believe in the power of gamification to make work more fun for your employees, business partners, and customers and thus make your company more successful. Our team is composed of experienced enterprise gamification designers. We are globally available.
Enterprise Gamification Consultancy (EGC) was founded in 2013 by four of the top gamification designers (as rated by Leaderboarded.com) and operates globally. We help companies and organizations to motivate employees, partners, and customers through applying the methods of Enterprise Gamification, by simultaneously making work more engaging and benefiting both the organization and the employees.
About GamEffective
GamEffective is a next generation gamification company focusing on rich graphical narratives to drive skillful change in organizations. It works across enterprise applications and requires no coding for integration. GamEffective offers solutions for sales, customer service and on-boarding, offering clear calls to action, rich game narratives and cross platform interaction. For more information, go to http://www.gameffective.com.