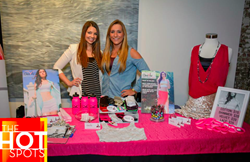 It's the ideal event for small businesses and we're looking forward to showcase our elegant, versatile and innovative line of crop tops - Julie Crotty, Cleavitz Founder/CEO
WASHINGTON, D.C. (PRWEB) April 20, 2015
Cleavitz®, the only patented crop top for women guaranteed to never to ride or slide, will be one of the vendors participating in this year's Beauty Night Out, schedule to be held at the Long View Gallery here on Tuesday, April 21 starting at 5:00 p.m. Cleavitz will be unveiling its spring line of half cami crop tops and offering special deals on its complete line of fashion tops as well as a chance to win free prizes.
This is the eighth annual Spring Beauty Night Out, celebrating women and beauty with an evening of shopping, makeup and eye treatments, mini manicures and mini massages, and more in a fun setting. The event includes Women in Whiskey, courtesy of Margie Samuels of the Maker's Mark brand. Representatives from Laphroaig Scotch Whisky, 2 Gingers Irish Whiskey, and Winter Palace Premium Tsar Vodka also will be on hand. In addition to Cleavitz, other fashion and cosmetics brands including Macy's, Estee Lauder, Mary Kay, ADMK Jewelry, and more will be present. Celebrity stylist James Cornwell will serve as the host for the evening.
"We had such great success with the fall Beauty Night Out event that we wanted to make sure we were included in this year's Spring Beauty Night Out," said Julie Crotty, CEO and Founder of Cleavitz. "It's the ideal event for small businesses and we're looking forward to showcase our elegant, versatile and innovative line of crop tops. We will be in good company at Beauty Night Out and we are looking forward to turning heads with our new spring line of fashion tops."
Cleavitz offers women a complete line of half tops designed to provide the ultimate in comfort and fashion. Cleavitz's patented half cami design is guaranteed to stay comfortable and stay in place without slipping or riding up. Cleavitz line of crop tops is available in designer colors in cotton, shimmer, lace, or velvet. Cleavitz serves as the ultimate fashion accessory and are ideal for leisurewear, active wear, or as part of a more sophisticated ensemble.
About Cleavitz
Cleavitz® is the only patented crop top for women guaranteed never to ride or slide. Developed by founder and CEO Julie Crotty, the concept behind Cleavitz was to develop a simple, comfortable way for women to dress fashionably and accessorize professional attire at the same time. Women's camisoles, tank tops, and half-camis were either too revealing for the office, bunched up, or were too hot for summer wear. Cleavitz was developed to deliver comfort and style using a patented design and fabrics that were guaranteed to be fashionable and practical.
Cleavitz tops are available in different designs and fabrics, including cotton, shimmer, lace, and velvet. For more information about Cleavitz or to see the entire line of fashion-forward tops, visit http://www.cleavitz.com.