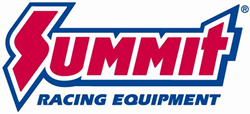 Tallmadge, OH (PRWEB) April 21, 2015
It's remarkable how well a modern engine performs while offering good fuel economy and meeting very strict emissions rules. If something goes wrong with a fuel or emissions system, vehicle owners can fix much of what ails them with top-quality Dorman replacement parts from Summit Racing.
Intake Manifolds
Most modern engines use plastic/polymer intake manifolds to save weight and production costs. As they age, these manifolds can start cracking and splitting. That can cause problems ranging from air leaks and loose sensor fitting to major coolant loss and overheating. Dorman makes replacement manifolds that have been redesigned to fix many of these problems. Manifolds are available for popular GM, Ford, Chrysler, Jeep, Toyota, and Volkswagen engines.
Intake Manifold Runner Control Valves
Dorman intake manifold runner control valves are designed to stay closed at lower RPM to improve low-speed and cold-engine performance. At higher RPM, the valves completely open to improve high-speed engine performance. Summit has Dorman runner control valves for BMW, Ford, Chrysler, Mazda, and Nissan engines.
A.I.R. Check Valves for GM
The A.I.R check valve is part of the Secondary Air Injector System. This is the valve that controls the air entering the engine. An A.I.R check valve malfunctions due to electrical failure, causing the Check Engine Light to illuminate. Dorman's replacement check valves come with everything needed to complete the repair. They're available for GM LS, V6, and four-cylinder engines from 1999 to 2010.
Leak Detection Pumps
If a Check Engine Light is on, it can indicate a leak detection pump failure. These Dorman evaporative leak detection pumps are designed to build pressure in the EVAP control system when the computer performs a self-diagnostic leak check. Dorman leak detection pumps are made to meet or exceed OE standards for quality and function. Summit Racing has pumps for Chrysler, Jeep, Mazda, and Volvo engines.
Summit Racing also has other Dorman late model fuel and emissions system parts including fuel vapor canisters and manifold flapper motors.
Summit Racing Equipment
http://www.SummitRacing.com
1-800-230-3030