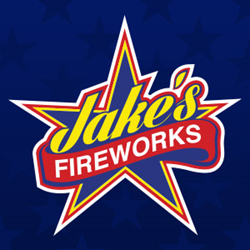 "We are proud to award theses scholarships to a local family as part of our annual Shoot Off event, said Mick Marietta, CSO, Jake's Fireworks. "We will continue to support the Folds of Honor Foundation, our veterans and their families in 2015 and beyond."
Pittsburg, Kansas (PRWEB) April 18, 2015
Thanks to the generosity of Jake's Fireworks and Eagle Beverage, the Folds of Honor Foundation is able to fund three scholarships for a local military family. This weekend, as part of the 16th Annual World Class Fireworks Shoot Off, Jake's Fireworks will award two scholarships to the daughters of Sgt. 1st Class Forrest W. Robertson. The third scholarship is being provided by Eagle Beverage of Frontenac, KS. Robertson was killed in Afghanistan in 2013 as part of Operation Enduring Freedom. He attended Pittsburg State University and was an active member of ROTC.
The Folds of Honor Foundation, based in Owasso, Oklahoma, is a 501(c)(3) charitable organization with a mission to empower military families by providing educational scholarships and other assistance for the children and spouses of fallen or disabled.
"We are proud to award theses scholarships to a local family as part of our annual Shoot Off event, said Mick Marietta, CSO, Jake's Fireworks. "We will continue to support the Folds of Honor Foundation, our veterans and their families in 2015 and beyond."
Jake's Fireworks partnered with Fold of Honor in 2013. Since that time, Jake's has generated more than $400,000 in donations to support veterans and their families through the Folds of Honor Foundation. Revenues are generated through sales of the Folds of Honor firework. For each firework sold, Jake's donates a set dollar amount to the Folds of Honor Foundation, which provides educational scholarships to the families of military veterans injured or killed defending our freedoms. Learn more about the Folds of Honor firework at w ww.jakesfireworks.com/foldsofhonor/
"We're incredibly grateful for the support of Jake's Fireworks," said Major Dan Rooney, founder of Folds of Honor. "Providing these scholarships means giving our military families the opportunities they deserve to grow and thrive. Our goal is to honor our military's sacrifices by educating their legacy, and this generous donation by Jake's Fireworks has given us the means to change lives."
Since its inception in 2007, Owasso-based Folds of Honor has awarded more than 5,000 educational scholarships to meet an ongoing need in our country. As of January 2012, more than one million dependents have been affected by the wars in Iraq and Afghanistan. Of these, 87 percent do not qualify for federal scholarship assistance. For more information or to make a donation, visit FoldsofHonor.org.
About the Folds of Honor Foundation
Folds of Honor is a 501(C)(3) nonprofit organization that provides educational scholarships to families of military men and women who have fallen or been disabled in combat while serving in the United States armed forces. Our educational scholarships support private education tuition and tutoring for children in grades K-12, as well as higher education tuition assistance for spouses and dependents. Founded in 2007 by Major Dan Rooney, an F-16 fighter pilot in the Oklahoma Air National Guard who served three tours of duty in Iraq, Folds of Honor is proud to have awarded more than 7,500 scholarships in all 50 states, as well as Guam, Puerto Rico and the Virgin Islands, including more than 2,000 in 2014 alone. For more information, or to donate in support of a Folds of Honor scholarship, visit http://www.foldsofhonor.org.
###
Media Contacts:
Devon Krusich, Jake's Fireworks
devon.krusich(at)jakesfireworks(dot)com
620-875-1642
Steve Beykirch, Eagle Beverage Company
steveb(at)eaglebeverageco(dot)com
620-231-7970
Megan Godfrey, KemperLesnik for Folds of Honor
megan.godfrey(at)kemperlesnik(dot)com
708-214-4287