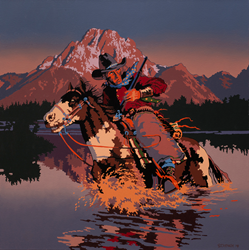 Billy Schenck has only continued to grow in popularity and critical respect since we tapped him 30 years ago.
Jackson Hole, Wyo. (PRWEB) April 20, 2015
A classic cowboy on horseback against the jagged Tetons is the subject of "13 Minutes from Eternity," the painting by artist Bill Schenck selected by the Jackson Hole Fall Arts Festival as its featured artwork for this year's event, Sept. 9 – 20, 2015. The iconic 50-by-50-inch oil on canvas image, presented in Schenck's trademark style that incorporates photo-realism and pop art techniques, will be on display throughout the festival and auctioned on Sept. 19, as well as appearing on the official 2015 Jackson Hole Fall Arts Festival poster. The festival is no stranger to Schenck, whose painting "Waco" was selected as the featured artwork for the very first Jackson Hole Fall Arts Festival in 1985.
"We're so excited to have Billy Schenck as our featured artist for 2015," says Maureen Murphy, director of special events for the Jackson Hole Chamber of Commerce, organizer of the festival. "Billy has only continued to grow in popularity and critical respect since we tapped him 30 years ago, even as the Jackson Hole Fall Arts Festival has grown in size and scope. Having his artwork representing the festival this year should create a formidable pairing – and I expect poster sales to be through the roof!"
"It's like getting reinvited to be the host of the Oscars after a 30-year hiatus," said Schenck of his return to the featured slot at the Jackson Hole Fall Arts Festival in a recent article in the Jackson Hole News & Guide.
Schenck's work has long been nationally admired. Early in his career, he became known for presenting Western cinematic imagery with a distinctive reductivist approach that uses color side by side in a flat style without blending. The artist, who works out of Santa Fe, grew up in Arizona and Wyoming before joining the New York art scene in the early '70s, where he was part of the original New York school of photo realism, with his first New York gallery show selling out when he was just 24. His work can be found in numerous major collections throughout the world, including the Smithsonian Institution, Denver Art Museum and The Autry Museum of Western Heritage, and has been the subject of seven museum retrospectives and two books.
Jackson Hole Fall Arts Festival posters featuring the Schenck painting will be available for sale throughout the event, and festivalgoers will have an opportunity to meet the artist on Sept. 16 for a poster signing at Altamira Fine Art. The original oil painting for the 2015 poster image will be up for auction on Sept. 19 as part of the 20th annual QuickDraw Art Sale and Auction in Jackson Town Square. Beginning Memorial Day weekend, the original "13 Minutes from Eternity" painting will be on display in the lobby of the Wort Hotel in Jackson for all to see up until the Quick Draw event.
The 2015 Jackson Hole Fall Arts Festival includes a varied combination of visual, contemporary, culinary, Western, landscape, wildlife and Native American arts on display in venues from galleries and the museum to the Jackson Town Square. The 31st annual festival will offer visitors more than 50 family-friendly events, many of them free, surrounded by the Teton Mountain Range in its autumn colors – with the opportunity to purchase original artworks from cowboy to cutting-edge contemporary. The dates for the Fall Arts Festival have recently changed to include opening a day earlier than originally scheduled with the "Western Visons: Wild. Wearable. Art." luncheon, show and sale organized by the National Museum of Wildlife Art on Sept. 9.
About the Jackson Hole Fall Arts Festival:
Conveniently located just 20 minutes from the Jackson Hole Airport, Jackson, Wyo., is served by major airlines including Delta, United, American and SkyWest. Reservation information for Jackson's numerous hotels, as well as a complete schedule of Jackson Hole Fall Arts Festival events may be found at http://www.jacksonholechamber.com. For additional information, contact Maureen Murphy at Jackson Hole Chamber, 307.733.3316.
Media Contact: Amy Stark, WordenGroup Strategic Public Relations, amy(at)wordenpr(dot)com, 307.734.5335